Tuesday, October 10, 2017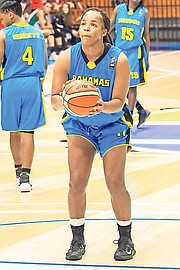 By RENALDO DORSETT
Tribune Sports Reporter
rdorsett@tribunemedia.net
THE Lakehead University Thunderwolves were excited about the possibility of adding Leashja Grant to its frontcourt and the Bahamian forward has paid immediate dividends in their first few games of the season.
Grant powered the Thunderwolves to an undefeated record and tournament championship at the BOB FM Shooutout.
They claimed the tournament title with an 82-62 victory over the UNBC Timberwolves Sunday in Winnipeg, Canada. Grant led the Thunderwolves with a double double - 25 points and 19 rebounds. She was named the Tournament MVP for her dominance over the course of the three game stretch. In game one, the Thunderwolves escaped with a 64-63 victory over Winnipeg 76-56 over Manitoba in game two.
Thunderwolves head coach Jon Kreiner said: "Proud of this group that has battled through some tough adversity to come out on top as BOB FM tourney champs. We are a tight group that plays hard but it was nice to see some outside shots fall this weekend."
Grant was named to the All-Tournament team along with teammate Bridget O'Reilly.
The Thunderwolves continue their schedule this weekend with a back to back against Algoma, October 13 and 14. Grant came to Lakehead University in Ontario, Canada, after playing at both the JuCo and NCAA Division I levels in the United States.
US Visa issues periodically stalled her athletic and academic progression last season, but she now joins a programme looking to contend in the Ontario University Association with a repeat trip to the Final Four.
Thunder head coach Jon Kriener said it was an amazing signing for his programme, a team that reached the Ontario Universities Association Final Four last season.
"Wow," Kreiner said "She's a legit NCAA Division I post. She's undersized by NCAA Division I standards, but oversized with respect to her rebounding ability. She's a beast inside and the type of player that we've been looking for to complement our shooters and the talent we already have. Her strengths are going to be controlling the paint at both ends of the floor. She's a big-time rebounder and kind of gives our shooters a little bit more leeway to let loose a little bit. Also we'll look at getting the ball inside and playing that inside game."
She will have two years of eligibility remaining for the Thunderwolves
"I hope to accomplish a lot both on and off the court and I have confidence that will happen at Lakehead U," Grant said in a press release, "I am looking forward to a great first year at Lakehead with a fresh start."
Grant last played collegiately for the Texas Tech Red Raiders in the Big 12 at the NCAA Division I level during the 2015-16 season.
She averaged 7.7 points and 6.8 rebounds per game for the Red Raiders in her lone season in Lubbock, Texas.
She spent the past off-season with a noteworthy appearance on the Women's Senior National team for the second time.
Despite a 5th place finish at this year's Women's Centrobasket Championships, Grant led the Bahamas and averaged a double double with 15.6 points and 10.6 rebounds per game.
Prior to her time with Texas Tech, Grant played at the junior college level with the Trinity Valley Community College Cardinals.
In her sophomore and final season with the Cardinals, Grant averaged a double double with 12.1 points and 12.9 rebounds per game.
Her highlight of the season came when she grabbed 31 rebounds to become the school's single game leader and broke Portia Hill's 27-year-old record.
Grant helped the Cardinals to claim an eighth straight Region XIV championship and national tournament berth. She posted 23 double doubles in 34 games, including six games with at least 18 rebounds or more.