Monday, September 11, 2017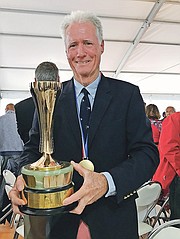 By BRENT STUBBS
Senior Sports Reporter
bstubbs@tribunemedia.net
After settling for a second place once and third seven times, Gavin McKinney finally ascended the top of the podium as the International 5.5 Metre Class Association's 2017 World Championships champion in Benodet, France, over the weekend.
In the nine-race series that allowed one race to be discarded, McKinney skippered the John B, crew members Mathias Dahlman and Lars Horn Johannessen to a six-point lead over the New Moon, skippered by fellow Bahamian Nassau Yacht Club rival Mark Holowesko and crew Christoph Burger and Bahamian Peter Vlasov. Third place went to the Netherlands' team skippered by Arend Jan Pasman with crew Ron Azier and Kim Chabani on board the Feng Shui.
Securing the title with 12.80 points, compared to Holowesko's 18.80, McKinney became just the fourth Bahamian to win a world title in the sport, following the footsteps of two-time (1980 and '86) 5.5 mere class champion the late Robert 'Bobby' Symonette, three-time (1983, '83 and '88) sunfish champion Donnie Martinborough, two-time (1973 and '77) sunfish champion Pierre Siegenthaler and legendary Sir Durward 'Sea Wolf' Knowles, the 1947 Star Class champion.
While Symonette also won a pair of silvers in 1962 and '73 as well as the bronze in 1981 in Nassau, all on the John B, he passed the boat on to McKinney, who won his first medal in 2000 with the bronze using Lars Petter Field and Bahamian Craig Symonette as crew.
The boat was renamed John B Once Again and McKinney and Symonette added two more bronze in '01 (with crew Joe Thompson) and '02 (with Johannessen as crew for the first time). After going back to the original name of John B, McKinney picked up back-to-back bronze in '07 with crew Peter Hauff and Field and in '08 in Nassau with crew Hauff and Johannessen.
Prior to his victory over the weekend, McKinney carted off another pair of bronze ('14 and '16) in between a silver medal ('15) crew Johannsen and Thomas Hallberg. Holowesko trailed Symonette for the bronze in '15 with Petter Morland Pedersen and Vlasov for his first medal.
McKinney was unavailable for comments, but Holowesko said the event was very competitive with boats from a number of European countries and Australia competing.
"Conditions were varied, with light winds at the start of the regatta, to very strong winds on the last day," he said. "The varied winds and unique tides made things challenging. Races were generally very close, but the two Bahamian boats dominated by winning all but one of the nine races.
"I was happy to come in second but disappointed that after being in first after three days of racing, we had two difficult days that pushed us down one position."
Holowesko said it great to watch McKinney succeed.
"As a Bahamian, I am very proud to have Gavin as the World champion," he said. "He sailed extremely well and deserved the win. Gavin has been sailing in the 5.5 class for over 30 years. He has come second at the World's but has never won the title until this year. I am thrilled for him."
It was even sweeter at the awards ceremony.
"I am extremely proud that two Bahamian boats went to Benodet, France and captured the top two positions. We made a bit of 5.5 sailing history," he stated. "Other Bahamians have sailed in the class previously but never have two Bahamian boats come in first and second. It was great to see two Bahamian flags at the medal ceremony."
The Bahamian skippers and their crew sat together at the awards dinner and they all celebrated with some French win.
Bahamas Sailing Association president Lori Lowe was the first to commend the Bahamians, calling it a great father in the cap for the sport in the country, especially as they get ready to host a big 100 Regatta from October 17-19 in Montagu Bay in honor of Sir Durward's 100th birthday on November 2.
"The federation is very proud of Gavin and Holowesko. This is great news," Lowe said. "He's tried to get to the top of the podium after coming close eight times, including the silver and seven bronze medals he won. It's a great impetus for our youth sailor. It reminds them the world is attainable. They go off to youth events and it's a bit of a crash course for them.
"If they don't give up, as Sir Durward said last week ('Never Give Up,') at the press conference, Gavin is an example of Sir Durward's statement. Mark and Gavin were slightly a cut above the rest of the teams, based on their finishes," Lowe said. "They pretty much traded first and second."
During the series, McKinney won the first, third, sixth, eighth and ninth races. He was second in the fourth and seventh and third in the a second. His worse finish was sixth in the fifth, which he discarded. Holowesko on the other hand, won the second, fourth and fifth races. He was second in the first, third and ninth and fourth in both the seventh and eighth races. His worse race was the sixth, which he got to drop.
McKinney, according to Lowe, continued the Bahamian legacy, winning over a fleet of 30 boats representing nine countries.