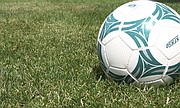 By RENALDO DORSETT
Tribune Sports Reporter
rdorsett@tribunemedia.net
The Lyford Cay International School Dragons were the story of match day two as both their girls and boys teams advanced to the championship final of their respective divisions in the 2019 Samuel P Haven National High School Soccer Championships.
Both teams were top seeds that received byes to the semi-final and made their successful tournament debuts yesterday at the Roscow Davies Soccer Field.
Paige Smith delivered the first hat trick of the tournament and powered the Dragons girls' side to a dominant performance and a 3-0 win over the Anatol Rodgers Timberwolves.
In a matchup of the BAISS champions (Dragons) versus the GSSSA champions (Timberwolves), the Dragons dominated time of possession and Smith capitalised on each opportunity in the open field. Dragons head coach Annisa Albury said her team's continuity continues to be a deciding factor as their season of milestones continues.
"The girls play together a lot, we've been looking forward to this since we weren't able to come last year," Albury said. "The girls play really well together as a team, they play for each other, they play for the school, they don't play for themselves so I'm really proud"
Smith's first two goals came on breakaways where she outraced the Timberwolves defenders for one-on-one opportunities with the keeper.
"The crazy thing about our girls is that a lot of them are the age to play in the junior girls' division. Paige is only in 8th grade, she has a really great spirit and she just dominates. It's really great to watch her grow and to be there to help her do that," Albury said. "There are adjustments we have to make but just going forward with that team mentality I think we will be successful."
The Dragons were also the top seeds in the boys' division and won 2-1 over the Aquinas Aces in a rematch of the BAISS championship final.
On match day one, the Timberwolves advanced through the first round with a 1-0 win over BAISS runners-up, the St Andrew's Hurricanes, while in the other girls' matchup, the CR Walker Knights won 4-2 over the Sunland Baptist Stingers on penalty kicks.
On the boys' side, the Aces defeated the GHS Magic 5-1 and the Knights defeated the Lucayan International Bucs 6-2.
To complete match day two last night, the Knights took on the Tabernacle Baptist Falcons in both divisions, however, results were unavailable up to press time.
The winner in each matchup will take on the Dragons in Saturday's national title game.
Match day 3 begins Saturday at 3pm with the third-place match in the girls' division followed by the boys' division. The girls' final will begin at 6:15pm followed by the boys' finale at 7:45pm.