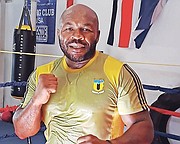 By RENALDO DORSETT
Tribune Sports Reporter
rdorsett@tribunemedia.net
SHERMAN "The Tank" Williams continues to search for premier matchups atop the heavyweight division and recently called out one former Olympic gold medal winner and former world champion.
Williams, 46, said that much of the top fighters in the division continue to handpick "safe" opponents and has directly challenged former WBA World heavyweight champion Alexander Povetkin of Russia.
The 39-year-old Povetkin, with a record of 34-2 (24KOs), is scheduled for a May 18 bout in Chicago, Illinois, however no opponent has been scheduled for the 10-round bout with less than a week left to go.
"I was offered a chance to fight with only two weeks notice and I still accepted it," Williams added. "I was later given a notice by the matchmaker stating that the fight would not go through. It's because I'm considered as a dangerous fight. The business of boxing," Williams said.
"They cannot say nobody will fight him. I will fight him.This is a legitimate challenge."
Williams last fought in the main event of Backyard Rumble: Part II in April when he was awarded a win by technical knockout just 30 seconds into his bout against Stacey Frazier of the United States..
Williams, now the Universal Boxing Organisation UBO Inter-Continental heavyweight champion, improved to 42-15 and has won his last five bouts.
"I think the difference is the fighters of the nineties and 2000s fought everyone, the mix, but today everyone is padded with paid for bouts until they are 10-0 or 15-0 with no real challenge, no real depth, with very little ability to fight in a real dogfight."
Williams told Real Combat Media: "Fighters today look for sure wins. Look at the Anthony Joshua scenario. They picked Andy Ruiz Jr who they believe is the weakest link. Everybody (in boxing with means) looks (is looking) for safe fights, winnable fights. That's the way the heavyweight division is today."
In his last fight, Povetkin lost to Anthony Joshua by technical knockout last September, when they fought for World Boxing Association (WBA), World Boxing Organisation (WBO), International Boxing Organisation (IBO) and International Boxing Federation (IBF) titles.
"I'm ready to fight any of the top contenders in the heavyweight division today. I would go 12 rounds, and possibly stop a few of them. I have not gotten any calls for Europe, not recently. Tough durable fighters never get called out. The name of the game of the promoter is to get a guy who you can win over, that's ninety per cent of the boxing game today," Williams said.
"I would give them more than they could handle, and possibly stop a few of them. Styles make fights. When a fighter is challenged and pressed, it's when you see the best of the fighter. At 46, given the opportunity, I would be at my best. I have age and experience, and know how to scrap in a dogfight."