Thursday, August 10, 2017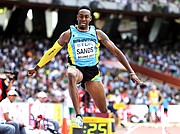 By BRENT STUBBS
Senior Sports Reporter
bstubbs@tribunemedi.net
LONDON, England: Although he would rather be here to compete, men's national triple jump record holder Leevan 'Superman' Sands said he's just delighted be back at the Queen Elizabeth Sports Stadium to support Team Bahamas.
Sands, the elected Athletes Representative, arrived in London on Wednesday, one day after missing out on Steven Gardiner's historic performance in the men's 400 metre final on Tuesday when he clinched the country's first medal - a silver - behind world record holder Wadye van Niekerk from the Republic of South Africa.
"It feels great to be back here competing. That was my goal to get back to London," said Sands, who suffered a near career ending injury in the final of the men's triple jump at the 2012 Olympic Games.
"I got the injury. I strained a ligament in my foot late in the season and it turned out to be a setback for me. I was disappointed because I wasn't able to be here as an athlete with the team, but it is what it is. I have to move forward and get ready for the Commonwealth Games next year."
It was a painful time for Sands when he went down with the injury and had to settle for fifth place as Americans Christian Taylor and Will Claye went on to a 1-2 sweep for the gold and silver respectively and Fabrizio Donato of Italy settled for the bronze.
Sands clearly remembers when he had to be carted off the field and taken to a local hospital to undergo immediate surgery.
"I won't lie. It brought back a lot of memories," said Sands with a chuckle. "They were good memories, but I just enjoy being back here. Coming back here reminds me of everything that happened.
"I visualised everything. I came off the plane and I saw the same signs and seeing the same scenic routes, it just reminded me of what happened at the Olympics. But it's a good feeling to be here among Team Bahamas."
Still holding on to the distinction of being the first Bahamian to win a medal at the championships when he landed the bronze in 2003 in Saint-Denis, France, Sands congratulated Gardiner for winning the first medal for the country at this year's event.
"I'm proud of him. I think last year he didn't make the final," said Sands of Gardiner's Olympic debut in Rio de Janeiro, Brazil. "He was a favourite to win a medal, but he didn't even make the final. But I congratulate him for his accomplishment this year.
"We also have Shaunae coming up and I know she's going to do her thing, as well as Bianca, who is great shape. Like I said, it's a young team and I think it will be an experience for them. I think next year, a lot of them who didn't make the final this year will be finalists and possibly get a chance to medal."
At the same thing, Sands said he won't miss the men's triple jump as Taylor looks set to defend his title.
"Normally I wouldn't watch track and field unless I am competing," he pointed out. "But seeing that I'm here, I'm going to go to the track and watch the guys perform in the final. Even though we fight in the competition, we are still very close friends, so I will be there to support them."
Sands expects Taylor to come out on top.
He said he's also counting on Team Bahamas to do well and he offered this bit of advice to all of them.
"Keep fighting. Disappointments are going to happen," he warned them.
"If you continue to follow your goals, anything is possible. It's all in the mind.
"The sport of track and field or any sport is 90 per cent mental and 10 perc ent physical. To me that's how it is.
"I think once you visualise what you want to do, anything is possible. Why can't you be a gold medalist? I think anybody can be a gold medalist."
Although he's not won his gold medal yet, Sands is also the holder of a bronze medal from the 2008 Olympics in Beijing, China.
He also plans to thank the doctor and staff at the local hospital in London for how they took care of him during his surgery.
"I want to see the doctor. I spoke to him and I told him I might be coming to London and I just found out that I was coming, so I want to sit down at lunch with him because I owe him a lot," Sands said. "He never doubted the process when others did."
For those who are still doubting, Sands, who will celebrate his 36th birthday on August 16, said he will be back next year for the Commonwealth Games in the Gold Coast, Queensland, Australia from April 4-15 since he didn't get to close out his long and illustrious career here on the global stage at the Worlds.