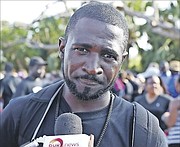 By RASHAD ROLLE
Tribune Staff Reporter
rrolle@tribunemedia.net
SENATOR Ranard Henfield, leader of the We March protest movement, wants the government to disclose the list of jobs and positions for which work permits have been issued to non-Bahamians to perform.
In a Facebook post this week he noted: "I'm (also) urging the government to indicate how long these positions/persons have been on work permits. Upon production of this report, Bahamians would know which upper and middle management jobs will be available at the end of that 12 month success plan period."
Asked about this, a government minister granted anonymity to discuss a matter not officially reviewed by the government, expressed openness to it but added that any such matter would have to be considered by Cabinet before a position is taken.
I have always been disturbed by resorts putting Bahamian staff on two to three day work weeks after receiving millions of dollars in concessions," Mr Henfield wrote. "Not to mention the fact that shares in these resorts had not been sold to Bahamian staff. I have always been disturbed by resorts and expat-owned businesses closing for months while staff don't receive salaries during the closure. Some of these business owners have skipped town, never to return while staff are waiting to be paid."
Post-Emancipation Day, the Bahamas should no longer allow Bahamian workers to be exploited by investors and hoteliers, Mr Henfield said.
"For starters, at least 60 per cent of upper and middle management of every resort/hotel should, by law come August 2018, implement a twelve month succession plan to replace the large amount of non-Bahamian workers with Bahamian workers." he wrote. "We have too many of our people with the qualifications in hotel management that are unemployed or underemployed while expats are raking in 10's of thousands of dollars each year."
In May, Labour Minister Dion Foulkes said Prime Minister Dr Hubert Minnis has directed government officials to ensure that no foreigner should get a work permit where there are qualified Bahamians to fill that position.
Speaking about the Free National Movement's position on the issue at the time, Mr Foulkes said the Minnis administration is committed to maximising Bahamian employment where possible adding that the government is in talks with the Inter-American Development Bank (IDB) for a $20m loan for apprenticeship and workforce training.
Senator Foulkes said since assuming his post after the May 10 election, he has been "very strict" in approving labour certificates for work permits and has denied or deferred many of them.
"The prime minister has given me directions to ensure that no foreigner gets a permit where there is a Bahamian available to do the job," he said at the time.