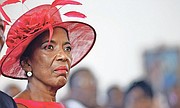 By AVA TURNQUEST
Tribune Chief Reporter
aturnquest@tribunemedia.net
Prime Minister Dr Hubert Minnis' wife Patricia is pushing for the establishment of her own office in a bid to raise the profile of women leadership in the country.
Mrs Minnis told attendants at a recent luncheon hosted for the spouses of senior government officials that she has already submitted a proposal for an Office of the Spouse of the Prime Minister to Cabinet.
Yesterday, The Tribune spoke to several officials who could not confirm the status of the proposal, and whether it has been presented; however, those officials noted the idea was not an unfamiliar one.
"I believe that as women, we should have a voice to speak to the issues that we face in the country," said Mrs. Minnis said at the luncheon on Monday.
"For that reason, I am pushing for this office, which I believe will help us to push for certain things relating to women and children, such as healthcare, the well-being of women and children and other issues."
The Bahamas Branch of the Commonwealth Women Parliamentarians (CWP) sponsored the luncheon for the spouses of parliamentarians, department heads and senior female government officials at Luciano's of Chicago. 
The event was held under the theme, "Strong Women, Leaders Unite," according to a release by Bahamas Information Services. 
French President Emmanuel Macron came under heavy criticism earlier this year after he proposed his wife be given an official role as First Lady.
In August, nearly 300,000 signed a petition against the proposal, which would have given Brigitte Macron her own budget, salary and direct influence on policy.
Due to intense pushback to the move, which would have required a constitutional amendment, Mrs Macron was instead given a clear official role - a first for the country.
According to media reports, the French president's wife will not draw a salary and only expenses incurred by her official duties will be covered.
In a "transparency charter," it was outlined that Mrs Macron's official role would focus on working with charities helping children and handicapped people. 
According to The Telegraph, she will also "work with the partners of other global leaders to highlight work to combat climate change or domestic violence."
In the United States, there is no official designation of how the spouse of the president should fulfil her role. However, former US Secretary of State Hillary Clinton was the first spouse of the president to take an office in the West Wing of the White House and was later appointed head of a healthcare reform taskforce.