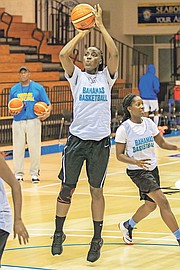 TEAM Bahamas is all geared up and ready to compete in their opening game of the CentroBasket Tournament today in the British Virgin Islands.
The team, which left town on Monday, will be playing against five other teams for one of the three spots that will emerge out of the tournament for the FIFA Women's AmericCup, scheduled for August 6-13 in Buenos Aires, Argentina.
Today, Team Bahamas will play against Mexico. On Thursday, they will play Jamaica, followed by the Virgin Islands on Friday, Puerto Rico on Saturday and Guatemala on Sunday.
Named to the team are Valerie Nesbitt, Philicia Kelly, Linda Pierre, Shalonda Neely, Samantha Gilbert, Tracy Lewis, Disti Delancy, Joette Fernander, Pamela Bethel, Lashae Rolle and Taneil Poitier.
Yolett McPhee-McCuin is the head coach, assisted by Donnie Culmer and Terrance 'Red Eye' McSweeney. Jurelle Nairn is the team manager and Sasha Ferguson is the trainer.