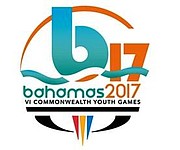 By BRENT STUBBS
Senior Sports Reporter
bstubbs@tribunemedia.net
TEAM Bahamas is eager to get the competition started when the Commonwealth Youth Games get underway next week in the capital.
On Wednesday, the team was officially named by chef de mission Derron Donaldson and his assistant Emily Lowe during a press conference at the Kendal Isaacs Gymnasium.
"It's a new event for the Bahamas, but so far we have been working very hard," said Greg Cash, the head coach for the 25-member athletic team.
"A lot of the athletes on this team would have already made their mark at CARIFTA and a lot of them have not had a chance to compete as late as July, but they are working hard and they are going to give their best."
Cash said that with some members of the team currently in Nairobi, Kenya, competing at the IAAF World Under-18 Championships through this weekend, they anticipate that the team will be ready when the competition starts next week.
Tayla Lightbourne, one of the female athletes, said this is definitely going to be a great event and she's looking forward to participating.
"I think we should compete very well since it's going to be here at home," she stated.
And Michael Adderley, who will be contesting the long jump, said having qualified with a personal best, he's looking forward to medalling. "Our team is pretty good. We have a lot of great athletes," he stressed. "I expect great things from all of us. We won't let the country down."
Daria Adderley, the head coach of the girls' football (soccer) team, said she's delighted with the make-up of her squad.
"I think the girls have put in the time and effort and so they should have a good showing for the Bahamas," she projected. "As a national coach for a number of years, I only expect the gold from these girls."
Alicia Telle, one of the members of the team, said it's the first time she's representing the country, but she's excited about the opportunity. "We have a lot of chemistry together, we laugh a lot and we get along very well," she said. "We understand that we have to play together as a team, so I'm excited that we can showcase our talent."
Dwayne Forbes, the coach of the boys' team, said they are all geared up and ready to hit the beach soccer facility to put on a show.
"We've been training together for five weeks and I've seen a lot of improvement in the team," he said. "We've been training at least twice a day, so I think we are really prepared for the competition."
Phieron Wilson, the team captain, said it's his third time representing the country and the second time at home. "We work more as a unit instead of as an individual team," he said. "Beach soccer is like a basketball squad where you have five players on the court.
"It's a sport that has grown tremendously from when we first started. You would think that we are copy of each other because we train and play together just so that we can bring home the gold."
Darcy Rahming Jr is the head coach of the eight-member judo team and after watching the progress of the sport from where they have had a chance to showcase their skills in the regional Carifta Games now to the international level.
"Coming of the heels of winning Carifta, we are pretty confident that we will do very well," Rahming Jr said. "This team has ben working very hard and we are looking forward to some pretty good performances from them."
Karra Hanna, only nine months in the sport, said she's been training extremely hard and she's confident that she can win the gold.
"This is a great and strong team and I really think our fellow competitors will see exactly what we can do," she promised. "We are all motivated to give it our all and not embarrass the Bahamas."
Beach volleyball is also hoping to make their mark, according to head coach Renaldo Knowles.
"The team that we have is a young team, but it's a good team," he insisted. "They have come a long way from learning beach volleyball because they have never played it before so I'm looking forward to them doing very well."
Although they didn't have the proper facility to train in at the beginning, Knowles said the team has made the adjustment and is keen on performing and peaking at the right time.
For 5-feet-11 Nathan Wert, it's an honor to be able to represent the Bahamas.
"I expect great things. I know that we are going to do our best through God and in God," he charged. "I feel very confident that we will do very well because we have been practicing together for a year."
And Kyle Wilson said although it's just started for their partnership, he said they have been close friends and schoolmates at grade seven at Queen's College up until they graduated this year.
"We are more than ready," said the 6-feet, 17-year-old Wilson. "We have played indoor volleyball for a number of years, but we are looking forward to see if we can duplicate that same type of performance on the beach surface."
All of Team Bahamas will participate in a float parade starting at 2 pm on Saturday when they will end up at the Mall at Marathon where they will be formally introduced to the public.