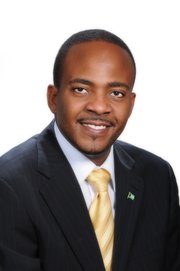 By SANCHESKA DORSETT
Tribune Staff Reporter
Sdorsett@tribunemedia.net
ATTORNEY Wayne Munroe, QC, said yesterday his client, Dion Smith, has been vindicated, after police admitted on Thursday that their investigation of the former chairman of the Bahamas Agriculture and Industrial Corporation had "wrapped up with no evidence of wrong doing."
In an interview with The Tribune, Mr Munroe said the police are "finally saying" the truth, that all the alleged missing items from BAIC "belonged to Mr Smith" and the so-called investigation showed that someone was "over eager".
Last month, Mr Smith was released from police custody without being charged as investigations into alleged "theft by reason of employment" at BAIC continued.
Mr Smith was appointed as executive chairman of the organisation under the Christie administration.
The former deputy speaker of the House of Assembly was the ninth person arrested, questioned and released in connection with the matter; however, no formal charges have been brought against anyone.
Assistant Commissioner of Police Paul Rolle told reporters on Thursday that the investigation was completed and police found no evidence of wrong doing.
"The stuff that was removed from the building was Mr Smith's. Some people thought different, but that turned out not to be so. It showed that they were over eager, they have stopped coming in with assault rifles, but the question is have they learned from what they did," he wondered.
On Friday Mr Munroe said he does not understand why the police "went after" Mr Smith and the other BAIC employees, who he also represents. He said he will be speaking with his clients to see if "any legal action will be taken."
"I will speak to them and find out what they want to do because there was no basis for the arrests," Mr Munroe said.
"Now after all of this they (the police) have arrived at the conclusion that we were telling them all along. All the stuff that they claim was stolen was either still at BAIC or belonged to Mr Smith. None of the property they claim he took belonged to BAIC and i guess they found the little staplers and Computer monitors in the building that they claim were stolen. I don't know why they would even fool with the employees, they were only taking directions from their boss, but you know, it's the people's time."
In May, eight employees were taken into custody after reports that some items were allegedly taken from BAIC on the night of the election and the day after.
A source close to the matter told The Tribune that police suspected the employees of allegedly attempting to destroy files and remove evidence from BAIC that could possibly show funds were being misappropriated.
However, at the time Mr Munroe said that his client decided to watch the May 10 general election results at BAIC last Wednesday and reportedly took his speaker and television to the building.
He also claimed that the former MP and several BAIC workers packed these items and other personal belongings after Mr Smith learned he had lost his re-election bid.