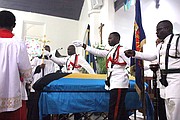 By NICO SCAVELLA
Tribune Staff Reporter
nscavella@tribunemedia.net
FAMILY, friends, and former political colleagues of former national security minister Dr Bernard Nottage on Friday paid their final respects to a man they all heralded as a "father figure", mentor, and a great "Bahamian patriot."
At a packed funeral service at St Agnes Anglican Church, family and friends of the deceased paid tribute to a man of "shining, unblemished integrity" who "loved his country and gave his Bahama-land his full measure of devotion."
Brian Bernard Jamale Nottage Jr, Dr Nottage's son, praised his father as a man who would "accept nothing less than perfection, and would always do what is right even at the risk of eroding his own popularity."
"Over the years as my dad transitioned and left the PLP, as I saw him change, he got closer to God," he said, referring to Dr Nottage's defection from the Progressive Liberal Party. "He became more resolute, more convicted about always doing the right thing.
"He was on a mission to change this country. He was on a mission to leave a legacy, not for himself, but for this great nation. He wanted our nation and everyone in it to have every opportunity to develop, grow and succeed.
"Many of the leaders we see here today were mentored by him, were supported by him…that's who he was," he added. "My father would often ask me, why would you pay to live in another country when you have all this?
"'BJ' was not just my dad, he was also a father figure to myself and many people in the country."
Mr Nottage tearfully ended his remarks by singing a verse from Frank Sinatra's popular song "My Way", his final farewell to a man who "gave his all until his last dying breath."
Former prime minister Perry Christie, Dr Nottage's close friend and athletic contemporary, heralded former colleague as "one of the most able men I have ever met, in both training and discipline, with an unmatched tenacity and determination to fight for what he knew to be right."
Reminiscing about the time he spent with Dr Nottage over the years, Mr Christie called on the government and "all Bahamians" to "seek in earnest" to establish "some fitting and permanent memorial" for Dr Nottage, stating that his "magnificent achievements in the fields of medicine, athletics and politics deserve to be heralded."
"Dr Bernard Nottage was a great believer in the Bahamas, and his life is a great exemplar for young people, all people," Mr Christie said. "Against many odds, he always said look at what a boy from East Street was able to achieve."
"He was a major success story," Mr Christie added. "Throughout his life he did his nation proud in whatever it was he set his hand to. Future generations should see him as a person of high achievement worthy of emulation and eternal esteem.
"The name 'Bernard Nottage' will forever signify the best in public service. The very name 'Bernard Nottage' will inspire leaders now and forever, with all that represents shining unblemished integrity.
"He loved his family. He loved his friends. He loved the people of Bain Town. He loved his country. He loved us, and we loved him. Truly, this was a man."
Prime Minister Dr Hubert Minnis, during his remarks, praised Dr Nottage for being his friend, teacher, and mentor since first meeting him in 1980 as a young intern. Dr Minnis said since their first meeting, Dr Nottage served not only as his medical counsellor, but also a political mentor at times.
Dr Minnis referred to advice Dr Nottage privately gave him following his ousting as Leader of the Official Opposition by former Long Island MP Loretta Butler-Turner and six of her colleagues, known as the 'Rebel seven', in late 2016.
"In December of 2016, when I was fired by my colleagues, my friend and teacher and mentor, BJ, came to me and said 'consider and look at what has happened to you as a medical complication'," Dr Minnis said. "'Utilize your training, you have been trained to deal with complications. We physicians are a special breed, we are trained to deal with complications. We are trained to remain focused and remain steadfast. My only advice to you is treat it as a medical complication'. And the rest is history."
Dr Minnis also reflected on the 'down to earth' personality Dr Nottage possessed, as well as the "passion" he held for his line of work as a obstetrician/gynaecologist (OB/GYN).
"He was happy to have his friends call him simply 'BJ', and he didn't see it as a mark of disrespect when relatives or strangers hailed him by his initials," he said. "It was his grassroots connection with them, and they with him. His life was as simple and uncomplicated as his initials, no big fanfare.
"He became a medical doctor not just to care for the sick, but to help the young and strong to remain healthy and to enjoy long, fulfilling lives. He aided the miracle of birth and presided over the delivery into this world of thousands of babies.
Dr Minnis added: "I am reminded of an unfortunate delivery that BJ was engaged in and the baby was stillborn. The attending nurses heard the understandable crying from the delivery room, and went to lend assistance to the upset father, only to discover that it was BJ who was awash in tears alongside the grieving couple.
"Such was the passion of this man for his profession, and his fervor for life. He was a man of deep compassion, but he had another calling, a call to public service, to leave his Bahamas better than how he met it."
On June 20, Dr Nottage fell ill and was checked into Doctor's Hospital. On Friday, June 23 he was airlifted to the Cleveland Clinic in Florida for further assessment and treatment.
However, Dr Nottage passed away on June 28th, surrounded by his wife, children, and some of his closest friends. He was 71.
Over the course of his political career, Dr Nottage served as a Cabinet minister in one Pindling administration and two Christie administrations.
Before his death, Dr Nottage served as minister of national security from 2012-2017 under the former Christie administration.