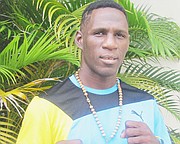 By RENALDO DORSETT
Tribune Sports Reporter
rdorsett@tribunemedia.net
IT was a disappointing end for Carl Hield's bid toward regional qualification and ultimately a spot in the IBA World Championships.
Hield fell in the first round of the American Boxing Confederation (AMBC) Elite American Confederation Boxing Championships on Monday night in Tegucigalpa, Honduras.
Hield lost via unanimous decision to Jhonathan Concei de Oliviera de Soares of Brazil as the Welterweight Class opened competition. He needed a top six finish at the event to advance to the World Championships.
"I have learnt in life that despite all things we must give God thanks," he posted on Facebook, "Despite the competition not going the way that I have planned, I have learned to understand that God does everything for a reason and he has a purpose and plan for my life.
"It was important for me to understand that it was not my time, and to know that God has a specific time for me to shine and when that time comes no one can stop because He would have declared it my time. God is showing me every day that he is in control of my life and future."
Hield, who currently trains in Havana, Cuba, said his fight game has suffered from a lack of activity and exposure.
"I have went an entire year with no fights and still ranked No. 57 in 69kg in the world rankings. Could you imagine if I were to have the opportunity to fight in more competitions to get the exposure? My ranking could be a lot higher," he said.
"To be ranked No. 57 in the world is a great honour for The Bahamas. For a country of our size, we have made our presence felt in the boxing arena. I would like to thank God for the many blessings that he has bestowed on my life and will continue to bestow on my life because I know that with him nothing is impossible. Thank you, Jesus, for the many blessings."
The AMBC was founded in an Extraordinary Assembly held in the city of Sao Paulo, Brazil, January 31, 2009. It emerged as a result of the merger of the Confederation of Pan American Boxing and the American Bureau of Aiba, according to Aiba's new policy of recognising only one organisation per continent.
The co-founders of the AMBC are Barbados, Brazil, Cuba, Canada, Costa Rica, Ecuador, Guatemala, Mexico, Nicaragua, Panama, Puerto Rico, the Dominican Republic and Venezuela.
Its current executive committee comprises eight members based in Buenos Aires, Argentina.
The main function is to govern and control the entire Olympic boxing on the American continent as well as having the representation of Aiba in America.