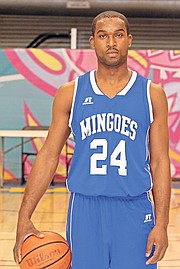 UNIVERSITY life is as much about camaraderie and forming lifelong bonds as it is about academic success. When he left Eleuthera to pursue a Bachelor of Business Administration degree in Computer Information Systems at the then College of The Bahamas (COB), Reuben Goodman had no idea that he would find a new family to embrace and inspire him.
Today, he speaks fondly of that kinship and the impact on his life.
"The men's basketball team is more than a team, it's a brotherhood," says Reuben, a member of the first commencement class of University of The Bahamas (UB) which this year comprised 790 graduates.
A small forward with a big impact, Reuben has helped the UB Mingoes men's basketball team to advance locally as well as internationally. The team has been playing against colleges and universities in Florida, all in an effort to move the athletics programme closer to its goal of the National Association of Intercollegiate Athletics.
"Being a part of the basketball team has exposed me to a lot. Coaches Kim and Bacchus Rolle have helped me to enhance my skills greatly and I appreciate the interest they took in me to ensure my success athletically and academically," notes the former scholarship student. "I remember the many study hall periods. They started as coaches, but ended up being mentors".
Over the years, Reuben has learnt to strike a balance between his academic pursuits and his responsibilities as a member of the basketball team. It has not been easy. Making practice sessions and games, sticking to an exercise and wellness regimen and applying the same level of commitment and discipline to studies has meant making sacrifices. Looking back, he believes it has all been worth it.
He initially aspired to become a computer engineer but had a change of heart. Having earned a baccalaureate degree with a concentration in applications programming, he is now among a growing number of university graduates who are looking forward to driving innovation in business through computer applications.
"I'm hoping to work in information technology and also build apps to enhance businesses in my country. I do have some ideas of things that I can create that would be of benefit to companies that may find my apps useful," he says.
As a student-athlete Reuben was at the centre of UB's campus life, helping to drive its vibrancy, build unity and campus pride. He hopes to see this momentum grow as faculty, staff, students and alumni support the athletes who represent them at home and abroad.
"There is nothing quite as exhilarating as playing a game knowing that the crowd is rooting for you and you have their full support. It gives you that extra boost needed to play your heart out," he says.
Among his fondest memories is being one of the first athletes under the new UB Mingoes brand which happened in the aftermath of the UB charter on 10th November 2016.
"I absolutely love the fact that we have a mascot now and I am happy to have been a part of that. It was definitely a highlight of my student-athlete career. It evokes a greater sense of pride and it just feels better and is quite catchy. I appreciate that the university saw the need to rebrand and give the athletic brand that degree of attention" says Reuben. "As I leave this place, I do so with fond memories as I have been a part of an historical period of the institution."