Monday, September 11, 2017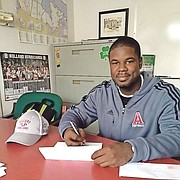 By RENALDO DORSETT
Tribune Sports Reporter
rdorsett@tribunemedia.net
EUGENE McMinns continues to display his versatility for the Acadia Axemen on a weekly basis.
The team's leading receiver made major special teams contributions to help the Axemen to 2-1 on the season with their 38-24 win over the St FX X-Men at Oland Stadium in Nova Scotia, Canada, on Saturday afternoon.
Acadia held a 24-3 lead in the third quarter before St.FX scored 14 unanswered points and trimmed the deficit to within a single touchdown.
McMinns regained momentum for the Axemen when he returned a punt 94 yards for a touchdown to make the score 31-17. For the game he returned six punts for 189 yards and the score, three kickoffs for 49 yards in the passing game he also caught three passes for 29 yards.
The Axemen scored every quarter and led wire to wire in the win. They look to improve on their record when they face the Saint Mary's Huskies on September 15.
The Huskies won the pre-season matchup 20-17, but McMinns finished that game with two receptions for 88 yards and two touchdowns.
In three games this season, McMinns has a team leading 15 receptions for 155 yards and one touchdown. As a return specialist he has a 20.4 yard average on kickoff returns and 21.8 yard average on punt returns.
He is one of three Bahamians on the Axemen roster along with defensive back Arrien McDonald and offensive lineman Shelton Williams.
McDonald has been used sparingly in the return game this year with 25 yards on kickoffs and 40 yards on punts.
Williams has started two of the three games.
McMinns' comeback story has garnered national attention in Canada and was featured on Usports.ca by Chris Ryan. He detailed the story from his introduction to football through former Huskie and CFL linebacker Karl McCartney and an eventual move to the Holland College programme.
"I noticed Holland College when quite a few guys from Canada came down to the Bahamas hoping to find some young talent to come up there and help them with their football programmes. That's how I got into Canadian football, through him [McCartney]. He showed me that Canada had football," he said.
"After I was done with football at Holland College, I was learning more about what Canada has to offer. I didn't really know about Acadia, StFX, Saint Mary's, Calgary, and a bunch of other Canadian schools and institutions, I didn't really know about that higher level."
After a year off from football due to personal reasons, he said he continues his progression this season.
"The game is faster, mentally," he explains. "Seeing a hole on punt returns, kick returns, screen plays, when I catch the ball in the middle of the field on a slant, being able to see a hole and hit it and being able to open up. You know sometimes as a track athlete sometimes you're in a 400 metres or an 800 metres, you get tired, the only thing you can rely on is your form. It's kind of the same way in football."