Wednesday, September 13, 2017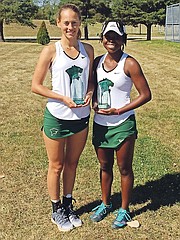 By BRENT STUBBS
Senior Sports Reporter
bstubbs@tribunemedia.net
IESHA Shepherd got her freshman season as a member of the Chicago State University Cougar women's tennis team off to a bang over the weekend in Chicago, Illinois.
The Bahamas' former top junior female player participated in the CSU Cougar Invite at the CSU tennis courts where she won the White flight singles final with 7-6 (6), 6-3 win over Oakland's Darya Maltseva for her first collegiate singles title.
Shepherd, 18, also teamed up with senior Mariya Kostyuk as the duo made it to the final, only to lost out to the Lewis tandem of Dora Andrejszki and Nora Miniyarova.
Kostyuk, by the way, won the Green flight singles crown over Andrejszki.
"It went very well and it was a new experience for me because I not only had my coach giving me pointers when necessary, but also my teammates were supporting me throughout the entire match," Shepherd told The Tribune. "There's a lot of chaos with cheering and coaching that I'm getting used too."
In making the transition to playing college ball, Shepherd said there's so much going during a match that she have to learn to stay focused.
"There's tons of noise so I am getting used to learning to focus during such an environment," she stated. "However, on the academic viewpoint, I am on top of my courses and I;m working hard to excel to obtain a degree in business administration at the end of my senior year."
Head coach Jack Barton said Shepherd has far surpassed his expectations of her as a freshwoman.
"We've had a week of practice. After the week of practice, we ended up hosting our own tennis invitational and she ended up winning the second flight of singles and she ended up teaming up with one of my seniors and they ended up second in doubles in their flight," Barton said.
"Everything that I felt that Iesha would be is more than what I expected. Usually when you have freshmen come in and they are playing their first tournament, they usually have nerves, but she came in like she's been doing this for years at the college level."
Although her debut was a successful one, Barton said Shepherd still has a lot to learn, but he's encouraged because she's well ahead of the curve and will only get better with time.
"Iesha definitely have the potential to the freshman of the year in our conference," he projected. "I think if she continue to work hard and to push herself, that's a reasonably goal for her.
"I even see her being one of the leaders of the team for the next couple of years, probably starting next year. With her work ethic and her attitude, she's like a quiet storm. She's very quiet, but very deadly. I think she sees the game and see how others play and she adapts to it."
There's not much that he can feel he can teach about her "dedication and determination" of the game because she already posses them. He said it's all about getting her adjusted to the collegiate game.
"She still have a lot to learn and a lot of experience to gain, but she is performing way better than the expectations that I have for her and she's every humble with it too," he insisted. "She's very humble."
CSU will be back in action over the weekend of September 22-23 at the UIC Invitational in Chicago. Barton said he expects to have Shepherd in singles and will probably team up with another Cougar player in doubles.
"Regardless of who I put her with, she will be fine," Barton stated.
They will close out the month with an appearance at the Wildcat Invite at Evanston, Illinois from September 29-October 1. From there, it's on to the ITA Midwest Regional Championships that will take place from October 12-17 in Ann Arbor, Michigan.
Shepherd said she's looking forward to what's ahead of her.
"I can expect constant match play," she proclaimed. "I can also expect strenuous training that will pay off during the spring and hopefully we all as a team can win the conference championships this year because the team is composed of a variety of players who know how to fight and give their all and win."
The former Queen's College student said so far college life has been sweet and it can only get better for her once she stay focused on both her academics and athletics.
Barton said two years ago he was in pursuit of Shepherd when he saw her at a recruiting show in Florida. After she had decided to play in a few pro tournaments this year, fate would have it that they booked at the same recruiting how and this time he was able to seal the deal.
"She's the first Bahamian that we've had here to play tennis and the first Bahamian at this school," he revealed. "She's also the first player from the Caribbean that I've had a chance to coach. But because of what she brings to the table, we are definitely going to be looking for some more players."
Chicago State, by the way, was in town last month as their men's basketball team played in a series of exhibition games against local Bahamian teams at the Kendal Isaacs Gymnasium where they posted an impressive 3-0 win-loss record.
As a result of what they experienced, Barton said they intent to return to the Bahamas to look at the possibility of recruiting more athletes, not only from tennis and basketball, but also track and field and some of the other sports.