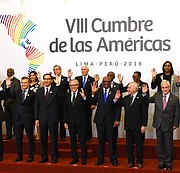 By KHRISNA RUSSELL
Deputy Chief Reporter
krussell@tribunemedia.net
THE inclusion of small island states like the Bahamas in tax information exchange dialogue drew the praise of Prime Minister Dr Hubert Minnis in Lima, Peru where he said such countries were previously disadvantaged.
Addressing the Plenary Session of the eighth Summit of the Americas, Dr Minnis further outlined the work of his administration to combat corruption at a governmental level.
The prime minister led a delegation to the summit which included his wife Patricia, Attorney General Carl Bethel, Minister of Education Jeffrey Lloyd, Foreign Affairs Minister Darren Henfield, Joshua Sears, senior policy advisor to the prime minister and Viana Gardiner, chief operating officer of the prime minister's Delivery Unit.
"We are pleased that the Lima Commitments acknowledge the importance of technical assistance to ensure that states have the necessary support to implement regional and international anti-corruption obligations," Dr Minnis said as he addressed regional leaders in Peru on Saturday morning.
"We also applaud the inclusion of a mandate to establish a hemispheric focus upon tax information exchange that has until now been a rather one-sided indeed lopsided conversation.
"Too often, small states are subject to norms developed without meaningful engagement with us, norms that may not be applied uniformly to all jurisdictions. We look forward to a balanced dialogue where we meet as equals on matters that are of importance to us all.
"When setting regional or international standards there is a need to minimise unintended consequences that negatively impact small economies in the hemisphere especially when devising regulatory mechanisms.
"For many developing countries including small island states in the Caribbean for instance the unintended consequence of loss of corresponding banking relationships requires a collaborative solution as stated by the IMF Managing Director Christine Lagarde in 2016.
"We must ensure that our efforts do not have as a backlash the erosion of regional financial stability and inclusion."
Underscoring his administration's work to combat corruption, the prime minister said this falls in line with a demand in the region for greater transparency and participation in the democratic process.
Philosophy
"Colleagues, in response to the demand for better governance, the Bahamas has adopted as a core governing philosophy, a non-tolerance for corruption policy. We are strengthening public institutions to enhance government transparency accountability and good governance. Recent initiatives include measures to establish an Ombudsman Office to act on behalf of the public in investigating and mediating claims of government maladministration, to establish an Integrity Commission to educate (and) spearhead reform and investigate issues related to corruption, financial disclosure and malfeasance while strengthening the public sector code of conduct and bolstering whistleblower protection to enhance provisions for confiscation of assets derived from corrupt means and to amend our nation's Constitution to establish the independence and autonomy of the Office of the Director of Public Prosecutions.
"The Bahamas firmly endorses the tenants of the Lima Commitments.
"These commitments established a baseline that each country should aim to achieve. The tenants are tools for us to hold each other accountable. It is only through cooperation and collaboration that countries will be able to curtail the webs of corruption that often extend across our boarders," Dr Minnis said.
Dr Minnis also had a meeting with Canadian Prime Minister Justin Trudeau on the margins of the summit.
Prime Minister Trudeau underlined Canada's continued commitment to supporting Caribbean countries, including the Bahamas, in addressing climate-related challenges and vulnerabilities.
Following Hurricanes Irma and Maria in 2017, Canada pledged $100 million to support Caribbean countries in their reconstruction efforts and in strengthening long-term resilience.
The two leaders also discussed the Venezuelan crisis.
According to Mr Trudeau's official website, the Canadian leader also recognised the important step that the Bahamas is taking in May 2018 when Dr Minnis is expected to launch his Delivery Unit, which will be charged with tracking government accountability on its commitments.
Dr Minnis left Peru yesterday to travel to London, England to attend the Commonwealth Heads of Government Meeting.