Thursday, December 6, 2018
By MORGAN ADDERLEY
Tribune Staff Reporter
madderley@tribunemedia.net
A Florida Atlantic University student raised in the Bahamas was arrested last week for allegedly threatening to kill his professor for scheduling a 7am exam.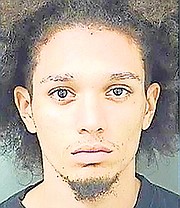 Rafael Decomas was arrested by campus police on November 28 after an officer was "made aware" of a "concerning Twitter post" by the account @Ashelaniqua, according to a criminal probably cause affidavit.
The post read: "Bey I gern f—ing kill dis professor bey this is my confession to a premeditated murder (sic)."
Mr Decomas is a former student of St John's College, according to his Facebook account.
A FAU campus officer discovered Mr Decomas' identity after realising the Twitter account was associated with the school's Caribbean Student Association and cross-referencing the information.
According to the officer's statement, Mr Decomas admitted to authoring the post, saying his anger was due to the fact that he would have to leave home at 5am to sit the exam.

"When I asked Decomas why he created such a post, he advised that he was only reacting to the news that his final exam for Data Structure…was scheduled to (7am)," the statement reads. "Decomas advised that he was upset at the news since he lives in Riviera Beach and would need to wake up at (5am).
"Decomas stated he did not intend to harm anyone, and tweeted the post out of frustration. Decomas advised that he deleted the post soon after publishing it."
Mr Decomas was charged with written threats to kill or do bodily injury. He was released on $5,000 bond.
According to court documents, Mr Decomas will be arraigned in January in West Palm Beach.