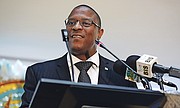 By BRENT STUBBS
Senior Sports Reporter
bstubbs@tribunemedia.net
MINISTER of Youth, Sports and Culture Michael Pintard said he's looking forward to a very productive 2018.
Sharing his expectations for the New Year with The Tribune Sports Department, Pintard highlighted two major events on his agenda as 2018 unfolds.
Firstly, Pintard revealed that he will be giving a general address to his ministry so that everyone is on the same page in terms of the six broad objectives that they will be pursuing.
And secondly, he will be entering various conclaves with the relevant sporting bodies, a commitment that was made when he came into office last May. "We will drive the process from the ministry's standpoint, in terms of helping to build capacities in the various federations," he outlined.
He indicated his ministry's intentions to get the message of their programme out, as listed, as follows:
1) Utilising sports as a national
tool for development
"Athletes in general, developing a number of skills and attributes as a result of sports, discipline, proper preparation, competing clean, perseverance, learning and exercising the concepts of team work," he pointed out.
"All of these are attributes that we are trying to inculcate into our young people in general. So sports is a developmental tool."
2) His ministry want to help
produce more elite athletes
"That is precisely why we are revising the subvention programme, why we are concentrating this year on how we build capacity among coaches so elite athletes will feel comfortable in bringing other elite athletes to train here in the Bahamas," Pintard said. "This also ties into us developing the sports academy, not merely in concept with the University of the Bahamas because that concept needs to be broadened. There are other academies being established by other persons who are suitably qualified who deserve equal attention and some degree of resources. So we wish to do that as well."
3) Sports is important in
helping young Bahamians
in terms of gaining
higher education
"Millions of dollars have been spent on Bahamian education because of their prowess in sports and we want to be even more intentional and deliberate about that," he stressed.
4) Sports is a means of
generating an income
and employment
"More Bahamians can be employed in this area, whether it is a physio-therapist or massage therapist or coaches who coach here or abroad, there are any number of ways in which they can generate a living," he pointed out. "So we want to look at sports as an income generating mechanism."
5) Sports as recreation
"All of our young athletes can't be elite athletes. We don't want to groom a nation where everybody is sitting in the stands in the gyms watching the athletes," he said.
"So we have to encourage our people, in general, to get involved in recreational sports. That is why we had discussions with members of the fitness federations because we believe it is very important that we collaborate to get more people involved recreationally."
Pintard said he and Minister of Health, Dr Dwayne Sands will be working towards providing more green spaces in the inner city to encourage seniors and young people to get more involved in recreationally activities.
"Kids need to get away more from those computer games and get more involved in sports like I did when I was groomed in softball, basketball and track and field," he recalled. "I want to see that in more of our young people today."
6) Using sports as a means of promoting healthy lifestyles.
"Far too many Bahamians are dying from non-communicable diseases," he stated. "And so we want to use sports as a means of doing that."
Pintard said his ministry will vigorously pursue a way to get their message out and they will hold the conclave so that they can collaborate with federations to ensure that sports is sustainable in the future.
"Federations must do more to become self-sustaining," he charged. "I grew up in the AF Adderley gym as one of the gym rats being up in the rafters. The gyms used to be packed and it was safe.
"There is no reason why we should not be packing the gyms and upgrading the ones that we have right now, so that they can become self-sustaining."
Pintard said there are many international programmes that the federations can rely on to attract grants to assist their athletes and coaches and clubs.
"Looking forward to this year, it's ensuring that the ministry's priorities are outlined and the federations need do their jobs," he insisted. "Then collectively, we can make the case to the corporate community that Bahamian athletics is worth the investment because the dividends are in multiple areas as I would have mentioned above."