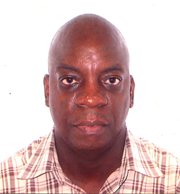 By BRENT STUBBS
bstubbs@tribunemedia.net
LET me first of all congratulate Todd Isaacs Jr and Sr as well as Lucius Fox for their unique initiative in staging the "Don't Blink" Home Run Derby in Paradise that was held on Saturday in Montagu Bay.
The public came out in great numbers and they got entertained by the local Bahamian and visiting professional baseball players who participated in the display of power, hitting the ball from the shore over an outfield that was extended into the water.
In the end, it was American Bo Bichette of the Toronto Blue Jays organisation who claimed the title as he beat out Fox Jr of the Tampa Bay Rays and American Nick Gordon of the Minnesota Twins.
But as I watched the event unfold, a lot of thoughts started to run through my mind and I would like to share them with you the avert readers, for what it's worth.
We're surrounded by water, but yet we have not taken the opportunity to fully capitalise on our natural resources the way we should.
The Bahamas Football Association and Fédération Internationale de Football Association or FIFA showed what could be done in the erection of the Beach Soccer Facility, which played host to the World Cup Beach Soccer Qualifier last year.
Isaacs and Fox didn't have such a facility, but their makeshift arena for the Home Run Derby worked perfectly. But could you imagine more sporting bodies coming up with similar initiatives to take advantage of the outdoors and the cool environment of the beaches.
Retired Jamaican superstar Usain Bolt was recently in town and he and American comedian Kevin Hart clowned along in a race on Paradise Island. Bolt gave a huge lead and he tried to catch him before they got to the finish line.
Unfortunately, the private taping made the rounds on social media.
But could you imagine seeing a properly organised sprint race, similar to the 200m straight race that our Olympic champion Shaunae Miller-Uibo won in Boston last June.
Could you imagine Miller-Uibo and Steven Gardiner going head-to-head in a co-ed race with a couple more international competitors or separate men and women races?
I could just see the stage set on the foreshore where there could also be a relay race possibly between the local high schools just to keep the entertainment going.
The sport of boxing could use a revitalisation so why not put on an exhibition - if you can't secure a professional card - on the beach. We've had the Drama in Bahama outdoors, so why not put on a Bahamian boxing show on the beach.
If we're creative enough, a stage could also be constructive to host a tennis match albeit on a smaller court with the rules being modified to accommodate the venue.
I know it might be a bit far-fetched, but how about a 3-on-3 basketball tournament?
If baseball can come up with such an unique idea for a home run derby, why can't other sporting bodies look at venturing out to the beach where there could be a lot more activities other than just regatta or sailing competitions.
On any given day you pass by, there is a large group playing dominos and backgammon. Can you imagine watching a major tournament at the site as well?
The Bahamas is blessed with some of the best talented athletes and executives, not just in the region, but in the world. We can hold our own in just about any forum we go in. And a lot of it has been done without government intervention.
WNBA BOUND?
Could the Bahamas see the next two players to emerge into the Women's National Basketball Association? Both Leashja Grant and Lashann Higgs are hoping that their performances in their respective colleges in Canada and the United States will certainly propel them into that direction.
Although she's in her senior year with the Lakehead University Thunderwolves in Thunder Bay, Ontario, Grant has the option of going back for another year if she doesn't secure a deal for the WNBA this year.
Higgs, on the other hand, is just in her junior year for the Texas Longhorns in Austin, Texas.
So regardless of how things turn out for her this year, she will be back to complete her tenure first next year.
The good thing is that they are both putting up the kind of numbers that would warrant the scouts to give them some consideration as they did with Waltiea Rolle and Jonquel Jones, the first two Bahamians to play in the top women's professional basketball league.
Grant, a 23-year-old, would have left her mark in the United States when she played for the Texas Tech Red Raiders in Lubbock, Texas, about two years ago.
It seems that the move to Canada has paid off big dividends for the 6-foot-2 forward who through the first 12 games is averaging 23.2 points 13.7 rebounds per game. Those impressive numbers, sparked by a career high 41 points in her last outing, are sure to put her in the mix for the WNBA Draft. If it doesn't work out, Grant said she will definitely pursue a career in Europe and eventually work her way into the WNBA.
Unlike the NBA where the majority of players enter the draft after a year or two in college, Higgs is content with sticking it out until her senior year is done before she pursues the WNBA. The 5-9 guard is averaging 12.5 points and 2.9 rebounds per game, but she has been a focal point of their offensive and defensive attack and one of the reasons why they are one of the top ranked teams at No.8 in division one.
So whether or not Rolle, who pioneered the Bahamian campaign, works her way back into the WNBA, could you imagine seeing at least two more players joining Jones in a year or two. It only bodes well for the future of women's basketball in the country.