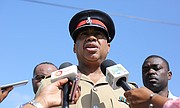 By DENISE MAYCOCK
Tribune Freeport Reporter
dmaycock@tribunemedia.net
ASSISTANT Commissioner of Police Clayton Fernander has warned police would be taking an aggressive approach to crack down on firearm traffickers.
He stressed the Royal Bahamas Police Force would be working with US counterparts to disrupt the flow of guns coming from the United States.
"We have taken a lot of weapons off the streets and charged a number of persons; we know a lot of the weapons are coming in from the US," he said.
ACP Fernander said police have identified areas where the guns are coming in and have a pretty good idea who these traffickers are.
He noted guns are used in 99 percent of the country's murders and other serious crimes, such as armed robberies.
"We are wide open in the Family Islands and we will take an aggressive approach to eliminate firearm traffickers," he stressed.
Another area of concern, he said, is gang activity and the recruitment of youngsters by seasoned criminals.
He said police are receiving information that young men are becoming involved in gang activity in Grand Bahama.
"We are addressing that and we are going to see how we can save some of these young men," he said.
The police will look at visiting the schools and speaking with youngsters about the dangers of becoming involved in gang activity, ACP Fernander said during a recent press conference in Grand Bahama.
"Based on the information, we believe some criminals have left New Providence and are here on the island recruiting youngsters."
ACP Fernander is encouraging parents to pay attention to their children.
"Know where they are and who they are hanging with," he said.
Dudley Seide, the founder of Reach Out Youth Organisation (ROYO), said too many young men are dying daily on the streets and it is time to stop ignoring the problem.
He is rallying youth and church leaders on Grand Bahama to join with him next Tuesday at 6pm at Reach Out Community Centre on Banyon Lane to come up with a plan to reach the young men, and stop the killings on the streets.
"We plan to stop these young men from dying on our streets," he said. "Crime is everyone's problem, and as long as people continue to sit and do nothing, the problem will not go away."
Mr Seide said that young men have lost hope and purpose for the lives.
"Our young men in their minds are thinking that they are not going to live long, so that's why they have no fear. I was like that too when I was younger because in my mind I was saying, 'I ain't going to live long, I have no purpose.'
"But we need to share with these young boys out there that they have a purpose in their life," he said.
Mr Seide said murderers are walking around like stars and bragging about how many they have 'dropped' on the streets.
"They just don't care who they kill," he said. "Until we let them know they have a purpose in their lives, this trend will continue. I was lost once also, and that's why I can speak this way because I thought I had no purpose also."