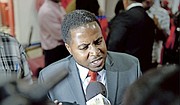 By SANCHESKA DORSETT
Tribune Staff Reporter
sdorsett@tribunemedia.net
AFTER weeks of contention between management of the Water and Sewerage Corporation and the Bahamas Utilities Service and Allied Workers Union (BUSAWU), union leader Dwayne Woods said yesterday both parties are back to "negotiating in good faith".
Mr Woods told The Tribune he thinks management has "learned its lesson" and everything is "back to normal" at WSC.
On Monday, Mr Woods claimed it was a coincidence that water pressure throughout New Providence was low one day after workers reportedly staged a "sick out" at WSC.
Mr Woods said the water pressure over the weekend was just as low as employees' morale.
He also denied WSC employees were involved in industrial action but said "the workers were sick because the weather was cold" and employees "were stressed due to the unwarranted theft allegations".
Last Friday, 30 employees at WSC engaged in a sick out, according to WSC Chairman Adrian Gibson, who told members of the press the move was "unwarranted".
Earlier that week, Mr Woods warned if the corporation continues its probe into theft allegations, "they will have war." He also threatened workers would commence a "withdrawal of enthusiasm".
A day later, three employees were questioned by the Royal Bahamas Police Force. Mr Woods confirmed the employees were released after two hours and have since returned to work with no charges.
"Listen, we have always contended that there were 18 fire hydrants in inventory in June and 18 remain in inventory. So we were baffled as to why the corporation attempted to do this investigation or whatever they were doing," Mr Woods said yesterday.
"We applaud the police for investigating and letting our workers go and performing their job professionally. We always contended that our people were innocent so now everything is back to normal and we are back to negotiating with them in good faith. I think they learned their lesson."
Mr Woods claims WSC accused three of the union's members of stealing a fire hydrant from the corporation's premises.
In December, The Tribune reported police were called in to review files of an internal investigation at WSC, which began as a theft probe but has since turned up other "sensitive matters."
At a press conference last month, Mr Gibson told reporters he made the decision to file a formal complaint with police over findings of the Internal Controls and Compliance Division after consultation with Works Minister Desmond Bannister.
In addition to the internal investigation, the government also engaged Ernst & Young to undertake a forensic audit of WSC.
Five people have been sent on leave since investigations began; however, Mr Gibson confirmed three of them have since been brought back to work.
Asked by reporters about theft, Mr Gibson said there was an alleged theft of items and when asked the value, he said it was in the "thousands of dollars."
He added there were several "offshoots" which were of grave concern.