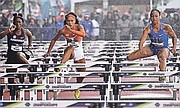 By BRENT STUBBS
Senior Sports Reporter
bstubbs@tribunemedia.net
ALTHOUGH they had to run on the opposite side of the track due to the heavy rain, Purdue's senior Devynne Charlton got out to a great start only to fade at the end for second place, while Texas' senior Pedrya Seymour's late comeback produced a fourth place finish in their epic showdown in the women's 100 metre hurdles at the NCAA Division One Outdoor Track and Field Championships.
University of Kentucky's junior Jasmine Camacho-Quinn won Saturday's race in 12.70 as she stormed back over the last two hurdles in lane five to regain the title she won two years ago after she got second last year on the final day of competition at the historic and rainy Hayward Field in Eugene, Oregon, on Saturday.
Charlton, who led from start in lane eight, was second in 12.77. Seymour, the national record holder at 12.64, rallied from a disappointing start in lane six to surge into fourth in 13.04 as she was nipped by Florida State's sophomore Cortney Jones in the same time.
A pair of national record holders also participated along with a few other Bahamians in the meet, but neither got into the final round.
In the much anticipated women's 100m hurdles final, competitors and fans in Eugene, Oregon, normally known for its inclement weather, forced officials to switch the hurdles to start from the first exchange of the 4 x 100m relay to the 200m start. But it didn't matter to the 22-year-old Charlton, a graduate of St Augustine's College who is studying biological sciences with a major in marine biology.
"I felt it was one of the best executions I've had all season," Charlton told The Tribune. "I would've liked a better time, but the conditions were a bit rough to run in although training in the midwest prepared me for the rain and cold."
Charlton, closing out her collegiate career after she placed fifth last year, said she felt Camacho-Quinn, who was in the middle of the track. She decided to go for it, but the Puerto Rico Olympian was a little better at the end. Charlton, the national indoor record holder, said she was also delighted to finally get to compete against Seymour in an outdoor championship.
"I'm always good to run against Pedrya. I think we really push each other," said Charlton, who embraced her local rival, whom she is expected to face in a rematch here at home when they come home to compete in the Bahamas Association of Athletic Associations' National Championships at the Thomas A Robinson National Stadium. "I'm really looking forward to running in front of a home crowd in two weeks," she summed up.
Unfortunately Seymour, who celebrated her 23rd birthday on May 29, has revealed that she won't be home for the Nationals as her focus is on summer school as she pursues her masters degree in advertising and public relations.
Having transferred from Illinois last year, Seymour said she went out there and gave it her best shot in her final collegiate appearance.
"The race definitely wasn't my best and the time reflects that. I didn't get a good start, but I kept fighting to finish the race," she told The Tribune. "I did not accomplish my goal at NCAAs, but I will keep my head up."
On her showdown against Charlton, Seymour said her rival "did well. She executed a decent race under the horrible weather."
Although this is going to be another transitional period for the former high hurdler (100m), the St Anne's graduate, who went on to finish sixth at the 2016 Olympic Games in Rio de Janeiro, Brazil, said she's at peace with herself right now, knowing that she has done the best she could.
"I've worked extra hard this season and I've had great practices and I've ran amazing times in practice," Seymour stated. "I told my coach my goal was to run 12.4 at NCAA and based on her feedback and timing, I was right where I needed to be, but it didn't happen.
"Like I said, I'm at peace. I did everything my coach asked and more and I made huge sacrifices this season, so I'm very proud of myself. I've learnt a lot."
Culmer 9th
Despite the fact that he just missed the final cut to get into the final round of the men's triple jump, Kaiwan Culmer closed out his collegiate career at the University of Nebraska as a construction management major with a best of 16.09 metres or 52-feet, 91/2-inches for ninth place.
He was denied the eighth spot for the All-American honours by Clayton Brown, a sophomore from the University of Florida with 16.10m (52-10). Tahar Triki, a sophomore at Texas A&M, won with 16.79m (55-1).
Brown 13th
Serena Brown, who last year shattered veteran Lavern Eve's national record in the women's discus, had to settle for 13th place in the flat circular instrument with a toss of 50.48 metres or 165-feet, 7-inches, but it wasn't enough to get her into the top eight to earn an All-American honours in her sophomore year for Texas A&M where the 19-year-old St Augustine's College graduate is studying construction science.
Maggie Ewen, a senior at Arizona State, won the event with 60.48m (198-5). Her performance came two days after she captured the shot put with a heave of 19.17m (62-103/4).
Pratt 17th
Denzel Pratt, the men's national javelin record holder, was the first Bahamian to compete on Wednesday, tossing the men's spear 65.19m (213-10). The St Augustine's College graduate, now in his junior year at Liberty University studying zoo and wildlife biology, also missed out of advancing to the final eight for an All-American honour.
In a meet record, Mississippi State's freshman Anderson Peters threw 82.82m (271-9) for the victory. Peters, 20, is a multiple CARIFTA medallist and 2016 Austin Sealy winner from Grenada. He won the bronze medal in April at the Commonwealth Games in the Gold Coast, Australia.
Bethel 16th twice
Grand Bahamian Brianne Bethel, in her sophomore year at the University of Houston where she is studying biology and aspires to be a clinical geneticist, placed 16th in the preliminaries of the women's 100m in 11.32. The Sunland Baptist Academy graduate missed out on the top eight to get into the final. The twin sister to injured Brittni, duplicated the same finish in the 200m in 23.05 to also miss another bid to advance to the final.