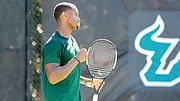 By BRENT STUBBS
Senior Sports Reporter
bstubbs@tribunemedia.net
AFTER taking some time off to undergo surgery on his right wrist, Justin Roberts is eager to get back on the court and continue his quest to move up the ladder on the men's international tennis circuit.
Roberts, who graduated last month from the University of South Florida, still has another year of college tennis eligibility which he will spend in his final campaign with Arizona State University as of August.
Over the last two months, however, Roberts has been working out intently on getting ready to return to the tennis courts. He's home working out with local consultant Ricardo Demeritte Jr from Impact Tennis Academy before he leaves town on Friday to play in three tournaments in Canada - Calgary (June 18-24), Kelowna (June 25-1) and Saskatoon (July 2-8). "I am just happy to be back on the court," said Roberts, who helped the USF Bulls men's team achieve some success while he was a member of their roster over the past three seasons.
"I was out for about 6-7 months. It's been a long time coming to get back to where I am right now. I did a lot of rehab, a lot of fitness, stuff that you really don't want to be doing. But now that I am fit, I want to start playing again to see where I am."
After tearing a ligament in his right wrist and ending up with a bone avulsion where a piece of the bone broke off on its joint, he eventually had to have it reattached.
"I've been playing regularly from April and it's been getting better," he pointed out. "I feel strong right now, so I just want to throw my hand into some matches and see where I'm at right now."
At present, 21-year-old Roberts is the only Bahamian male player with any ATP computer points and is ranked at 1,261 in singles. In his last tournament a year ago in Kaarina, Finland, Roberts lost in the quarter-final.
"I feel like I'm playing well, so I think I can go deep into these tournaments," Roberts projected.
"I haven't played in about a year, so there are some things I will have to deal with like the rust. But I've been training hard, so I think anything could happen. It's hard to say. I don't have much to go off.
"So I don't know how I will react to certain situations, but if I play as hard as I've been practicing, I think I will do very well."
Having been sidelined with the injury to his wrist, Roberts said he couldn't play in the Bahamas Lawn Tennis Association's annual Giorgio Baldacci Tournament in December, which served as the qualifier for the Davis Cup team, even if he wanted to.
"I definitely want to play in the coming years, but I still have some difference of opinion on how the team is selected," he said. "As the only player with any professional rankings or points, we felt that should take precedence.
"I wasn't able to play this year, so it wasn't an option for me, but I would like to play in the coming years. Let me congratulate the team for coming out of Group (Zone) three and moving into Group (Zone) two. That's a big thing for the Bahamas."
In the meantime, Roberts said he wants to get back on the court to improve his rankings and will be willing and ready to represent the country whenever he gets the call.