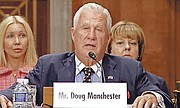 By KHRISNA RUSSELL
Deputy Chief Reporter
krussell@tribunemedia.net
DOUGLAS Manchester, real estate developer and billionaire, is still the nominee to fill the post of United States ambassador to the Bahamas, according to Foreign Affairs Minister Darren Henfield.
The government, the minister said yesterday, is also hoping Mr Manchester will take the post before the end of the year.
"I had a bilateral meeting in Washington last week at the State Department and the position remains the same," Mr Henfield said yesterday outside Cabinet in response to a question from The Tribune. "We're hoping to have the nominee Mr Manchester in the Bahamas as soon as possible.
"We hope (it'll be within the year)," the minister also said. "It has to be within the year. We look forward to an ambassador being here in the Bahamas. We haven't had one for more than 10-11 years and he unfortunately had some hold ups in his committee hearings, but hopefully they'll have them resolved and we could have him in The Bahamas very soon."
Back in February, Mr Manchester issued an apology after he was accused of having an unsettling management style that allegedly made some female employees uncomfortable.
The allegations dated back to a time when Mr Manchester owned The San Diego Union-Tribune Television, a now defunct TV station he launched as owner of the Union-Tribune newspaper from late 2011 to 2015, according to international news reports.
His apology came in an email that was also copied to US President Donald Trump in February. It was in response to a Washington Post reporter who made inquiries about the work environment at U-T TV.
"While I was chairman of the U-T San Diego, I became aware of egregious mistakes made by staff members," Mr Manchester said in the email.
"When they were brought to my attention, I immediately took appropriate action."
According to the San Diego Union-Tribune, Mr Manchester did not offer any specifics but said: "I am terribly hurt to learn of these allegations and apologise to any employee who felt uncomfortable or demeaned while employed at the U-T San Diego during my tenure."
In response to further questions from the Union-Tribune, Mr Manchester said he has never been the subject of any complaints himself.
"In 55 years of business involving multiple businesses and more than 6,000 employees, I have never had any action as to sexual misconduct, including U-T TV," he wrote by email, the newspaper said. "When egregious sexual misconduct was brought to my attention, executives were terminated but none was ever brought against me."
Cory Fish, director of human resources when Mr Manchester owned the newspaper, told the Union-Tribune, "As with any company, there were allegations of harassment. Every claim was investigated, thoroughly, and appropriate actions were taken as necessary."