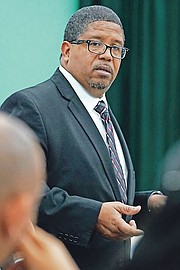 By DENISE MAYCOCK
Tribune Freeport Reporter
dmaycock@tribunemedia.net
THE government intends to create a single digital ID for citizens of The Bahamas to make online access to services seamless and more efficient to reduce government cost, Deputy Prime Minister Peter Turnquest revealed.
The government will be seeking assistance from new tech firm GIBC Digital to assist it with putting in place a cybersecurity system to ensure data privacy and security of the ID system.
Mr Turnquest's comments came during the official launch of GIBC's office in the Jasmine Corporate Centre yesterday.

GIBC Digital, operated by CEO Greg Wood, is the first tech firm approved under the Commercial Enterprises Act, which targets specialised businesses in captive insurance, nanotechnology, computer technology, software design, data storage, maritime trade, aviation registration, wealth management and manufacturing enterprises.
Cyber technology and fraud is one of the company's five interconnected areas of competency.
Said Mr Turnquest: "Greg has some products that we will certainly take advantage of. One of them is that we are looking to create a single ID that will identify you as a citizen to the government for everything that you do."
He explained that rather than having to request the service of the government, the government will make the process seamless for citizens and interactive from the office or the comfort of their home.

"That requires a lot of data. In order to ensure that that data is secured requires we have a very robust cyber security system. And that's one service GIBC offers its client.

"We look forward to leveraging that knowledge in our own effort to ensure that whatever we do, we protect the integrity of the system, so it engenders the trust, and the use as we anticipate and we would like to happen."
Mr Turnquest explained that GIBC is about facilitating change management for clients, understanding the process and then applying technology to improve processes.
"As you have seen this budget (exercise), the cost of doing business as a government is expensive and inefficient. And if we are going to remain competitive with the rest of the world, we are going to have streamline our processes and become more efficient, so we reduce the burden on average citizens.
"We believe all of us together are going to be able to cause some amazing things to happen in the next two to three years. And certainly look forward to cooperation and the participation of all the stakeholders in this process," he said.