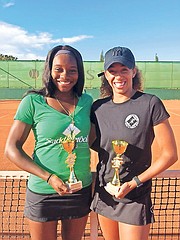 By BRENT STUBBS
Senior Sports Reporter
bstubbs@tribunemedia.net
AFTER they both got ousted early in their second tournament at the Lyttos Beach Hotel in Heraklion, Greece, Bahamian female pro tennis player Kerrie Cartwright and her American partner Kariann Pierre-Louis made sure that they didn't suffer the same fate in doubles.
The unseeded duo survived all the way to the final where they upset the top seeded team of Michaela Boev of Belgium and Raluca Georgiana Serban of Romania with an impressive 6-4, 7-5 decision to win their first International Tennis Federation's Ladies' title. Boev and Serban were the doubles champions of the previous tournament at the same venue the week before.
"I thought that we played really well," Cartwright told The Tribune as she became the first Bahamian in modern era to win any women's professional title. "We stayed really aggressive and even though the match was kind of close, it just came down to those deuce points and 30-30 to take the games."
While Cartwright made her exit in the first round in singles after losing 6-4, 6-3 to Ioana Gaspar from Romania and Pierre-Louis was ousted in the second round 6-2, 6-3 to Serban, the No.2 seed, it was more revenge for the Bahamian-American combo in doubles.
"It was good for us to pull off the doubles," Cartwright said.
There was no time for celebrations as Cartwright had to turn right around and played her first round match in their third and final tournament in Greece. Cartwright was playing to advance to the main draw.
"This is my week here in Greece, so this win gives me a lot of confidence for the next tournament," Cartwright projected.
In the meantime, Cartwright said she's just in shock to know that she made history for the Bahamas, adding that "I'm just lost for words."
Cartwright, 25, and Pierre-Louis, 19, are coming off their respective quarter-final losses in singles and doubles in their first tournament in Greece the week before.
Hopefully their triumph in the second tournament on Saturday will inspire them to continue their winning spree before their trip is over.