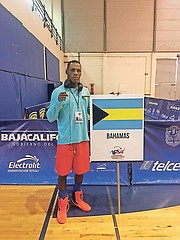 By BRENT STUBBS
Senior Sports Reporter
bstubbs@tribunemedia.net
DESPITE the fact that he left on a "wind and a prayer," Carl Hield can now breath a sigh of relief after qualifying for the Central American and Caribbean Games.
Not deterred by the Bahamas Amateur Boxing Federation's disclosure that there wasn't any money to send any of the local amateur boxers to Tijuana, Mexico, this week for the CAC qualifying tournament, Hield was able to come up with his own funding and now he's on his way to Barranquilla, Colombia in July.
Hield, the only Bahamian to make the trip to Tijuana, Mexico, won his opening round match on Sunday with a 4-1 decision over Canadian born Jamaican Joshua Fraser in the 69-kilogram or 147-pound welterweight category. The win propelled Hield into the quarter-finals and a berth in the CAC Games.
In an interview with The Tribune, Hield thanked God for giving him the strength and the knowledge to step into the ring and accomplish his goal.
He said despite all that he had to go through to get to Mexico, he could not have done it without the support of his sister Carla, his mother, the Ministry of Youth, Sports and Culture and the Amateur Boxing Association. "The fight was good, but I already had it focused in my mind that I needed to win the first fight because it would qualify me for the CAC Games," Hield said. "So once you win, you automatically qualify, so I didn't want to take any chances in trying to qualify. I wanted to get it done as quickly as I could."
After dominating the first two rounds, Hield said fatigue started to seep in during the third round, but he had to pull up his socks and get the job done.
"I pushed my way through it and I got it done," Hield said. "I now have to fight the Cuban, who was a finalist in the last CAC Games, so I will see what happens on Wednesday."
Hield, accompanied in the ring by his Cuban coach Ernesto Aroche Moreno and Raynold Cox from Trinidad & Tobago, said there was no way that he wasn't going to qualify for the CAC Games.
"When I got there, I was a little frustrated with everything that was going on," he said. "But thanks to God everything worked out for the CAC Games. It was very, very cold, but I had to deal with it. This is just a warm up for me to also get ready for the Commonwealth Games next month.
"This was my first fight in over a year, so it was a little hectic. Training is one thing, but when you are fighting, it's another thing. It went how I wanted it to go, but I wasn't at that standard that I am accustomed to. I should be there by my next fight and that should help me to get peaked for the Commonwealth Games."
Following the CAC Qualifier, Hield will return to Cuba to continue his training before he join Rashield Williams in the trip to represent the Bahamas in boxing at the Commonwealth Games, scheduled for April 4-15 in the Gold Coast, Australia. But Hield said he need to take care of some unfinished business in Mexico.
"We fought in the final of the last CAC Games and we do glove work in Cuba so know each other, so we know what we have to do," Hield said. "It doesn't matter whether I win or lose because I beat him in the first fight. This games is not so much about winning, but qualifying for the CAC Games.
"When you reach Colombia, there's where the medal count. So I will be in Colombia in July. My objective is to get in as many matches as I could now that I qualified so I can be peaked and ready to compete in the Commonwealth Games. That's why I came here, although the federation told me they didn't have any money to send anybody."
Hield, 31, has won medals at both the Commonwealth Games and the CAC Games and he's hoping that he can add to his collection when he head to Down Under to the Gold Coast and Colombia for his next two major tournaments.