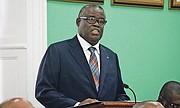 By AVA TURNQUEST
Tribune Chief Reporter
aturnquest@tribunemedia.net
MINSTER of the Public Service and National Insurance Brensil Rolle yesterday revealed the National Insurance Board has not processed 133,130 contributions, suggesting thousands of Bahamians could not access benefits as a result of poor management under the former administration.
Mr Rolle lamented the excessive backlog was the result of the premature launch of the new $14m V3 system, which is riddled with bugs and has slashed productivity at NIB by 43 per cent. The system was launched in 2016.
"The Contributions Department has 133,130 contributions forms to process. Persons coming to NIB and saying 'listen I want to make my payment to the board,'" Mr Rolle said.
"We supposed to put these contributions in a computer system, there are 130,000 that are not in the system, that means there are 133,000 persons who cannot claim a benefit. When I went into NIB, these contributions were locked in a box stashed away because they thought they couldn't handle the situation…same in North Abaco.
"I apologise to the Bahamian public, that is our responsibility. We will address it, and we will deal with it."
Mr Rolle told Parliament the system will likely cost an additional $2.3m to fix, with some officials sceptical of whether issues could be completely resolved.
Short-term benefits were usually processed within three working days, Mr Rolle said, noting the process now took longer than a month and with twice as many human resources.
"This reduction has had severe impact on the customer side," he continued. "There has been no improvement in a turnaround time in the processing long term benefits which takes 90 days.
"From April 2016 to November 2017," Mr Rolle said, "4,660 short term benefits claims are outstanding, claims persons made to the board that have not been addressed, and 1,887 long-term claims."
Following his contribution, Official Opposition Leader Philip Davis asked Mr Rolle to clarify whether the backlog figure represented a number of entries, for which there could be multiple entries relating to an individual, or actual customers. Mr Davis pointed out that NIB's 2016 annual report indicated there were an estimated 143,000 active employees.
"Which means only 10,000 persons are not being impacted," Mr Davis added, "to send a message that 123,000 Bahamians who are working out of a lot of 143,000, doesn't send a good message."
To this, Mr Rolle said: "You would agree that it's multiple entries or single entries, the fact that thousands of entries are not made is unacceptable. It could be multiple entries, they could be singular entries, what I did say was that the possibility is this, that 133,000 persons are impacted, it may mean that one person may be asking for two or three different benefits or it may mean that NIB was supposed to pay on this benefit three years ago and since that time (the customer) entered more benefits that should be paid because he didn't get the first one…the point is the PLP only wanted to say that they did something, rather than waiting until the system was ready and able to do the job, they just wanted to make an announcement that they did something."