By DENISE MAYCOCK
Tribune Freeport Reporter
dmaycock@tribunemedia.net
When he's not climbing the tallest mountains or cycling across the United States of America, Freeport adventurer David Mellor is sailing the South Atlantic Ocean, braving cold treacherous 20ft to 30ft waves aboard the largest wooden square rigged sail ship.

Mr Mellor, 76, recently returned home to Grand Bahama from a journey on the "Tenacious" sailing across the world.
In addition to the long voyage at sea, the adventurer was able to explore old battlefields of the Falkland Islands, visit the former southern whaling capital of South Georgia and stopped off in Cape Town, South Africa to paraglide down a mountain and cage dive with Great White Sharks.
The journey was not without injury as Mr Mellor suffered a mild concussion and chipped bone in his arm as huge waves crashed into the ship, tossing him on to the deck.
The Tenacious is the largest wooden square-rigged sailing ship built in the past 100 years. The ship, operated by Jubilee Sailing Trust of Great Britain, has over 250 lines and 24 sails, and is operated on a 24-hour basis with different "watches" running the ship at four-hour intervals. Handling, steering, navigating, log-keeping are some of the chores conducted onboard.
The ship has sailed to The Bahamas – at Nassau and Freeport and is fully equipped to accommodate blind and handicapped passengers, even providing a talking compass and power elevators.
In 2016 , Mr Mellor joined her crew for a 52-day journey out of Costa Rica to the remote Cocos Island, the islands of French Polynesia and then all the way south across the equator to Bora Bora and Tahiti as part of her journey from England to Australia.
He rejoined the ship this time after it had sailed non-stop from New Zealand across the South Pacific, around Cape Horn past the tip of South America all the way to Port Stanley in the Falkland Islands.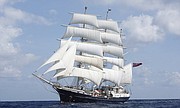 Mr Mellor said fellow countryman Sir Jack Hayward, the late chairman of the Grand Bahama Port Authority Ltd, was a principal supporter of the ship.
"Sir Jack was a very generous benefactor of the Falklands as well and built the local Hospital, Hayward Homes plus sponsored the return of the SS "Great Britain" an Historic Steel/Steam sailing ship back to Britain where it has been completely rebuilt at Bristol Docks," he said.
On his latest voyage fter leaving the Falkland Islands he said they encountered large waves that sent a "huge freezing cold wall of water crashing over the ship drenching everybody at waist level".
Their first destination out of Port Stanley was the remote British Island of South Georgia.
"It was also iceberg territory so a very keen lookout was essential to avoid another Titanic incident since there were some monster lumps of ice floating around," he recalled.
"I was fortunate in that I don't suffer from sea sickness but we had a number of really sorry cases having a miserable time until they settled down. The Falklands were interesting and we spent some great days exploring the old battlefields of the conflict with Argentina in 1982. Sadly, there are still hundreds of mines laying around on the beaches and so many are out of bounds."
The ship docked at Britveyken, the old whaling dock at South Georgia. Mr Mellor said the place has changed significantly from a whale killing capital, and is now "a protected location".

"It was the biggest whaling operation in the world where hundreds of thousands of whales had been butchered almost to extinction prior to the 1960s when it was stopped.
"It is truly a spectacular place with mile after mile of pristine mountains and glaciers, thousands of penguins, sea birds and seals, and even the occasional whale...but it's ccccccccold!"
Mr Mellor said that keeping the islands clean is a serious business and the ship was meticulously inspected before anyone was allowed off. "We all had to wash our boots in disinfectant before being allowed ashore and again when getting back on the ship," he recalled.
He also noted the islands had just completed a major campaign to get rid of the entire rat population and also 6,000 plus reindeers that had done tremendous damage to island's natural environment.

Mr Mellor said that reindeer meat was supposedly used to feed cruise ship passengers. He was also surprised to discover that Warfarin, the blood thinning drug he takes following open-heart surgery last year, was used as poison to kill all the rats.

He was able to meet legendary world sailor Skip Novak, who was their guide on the island and took them hiking, exploring and visiting the vast King Penguin Colonies and glaciers, the whaling museum and the grave of Sir Ernest Shackleton, the famous British Antarctic explorer who is buried there.
After leaving South Georgia, the "Tenacious' set sail for Cape Town. Mr Mellor said conditions were very rough with 20 to 30ft waves. It was on this leg of the journey that he was injured.
"I was the first casualty bashing my head and chipping the bone in my arm which caused a mild concussion, and apart from landing me in the sick bay and keeping me away from climbing up the high rigging also earned me a mock certificate from the rest of the crew for "the best attempted suicide," he joked.
Mr Mellor said the ship had planned to visit another very remote British Island "Tristan da Cunah" but they ran out of time.
As the ship sailed nearer to Africa, the temperature gradually improved.
"After 32 days at sea, we saw the outline of Cape Town's Table Mountain in the fuzzy distance. Soon, a welcoming group of boats and ships started to appear and we cruised into Cape Town harbour just as the sun set, watching the cloud (known as'the tablecloth') roll over the mountain," he explained.
"Setting foot on dry land after being bounced around for so many days was a bit strange and we were all rolling around like "drunken sailors" for a while. A big welcoming celebration party had been arranged onboard by local residents and was a great way to say goodbye to new friends as the ship was re-crewed and restocked for her next leg all the way to Antigua," said Mr Mellor.
But before leaving Cape Town, he found time climbing Table Mountain and paragliding down over the city, visiting world famous local vineyards and drinking their wine, visiting a cheetah Sanctuary, strolling around Cape Point of the Cape of Good Hope and going cage diving with the Great White sharks.
"The latter was a definite tick on my bucket list," he said, along with climbing Mt Everest where he planted a Bahamian flag on the summit in 1999.
"Being immersed in a steel cage while a big lump of rotting bait was dangled in front of it and suddenly having a huge set of teeth propelled by a thousand-pound fish smash into the cage about six inches from your nose will definitely boost your adrenaline," he said.
Like the Energizer Bunny, Mr Mellor keeps going and going. However, he told The Tribune he plans on slowing down.


"I'm 76-year-old (or young!) however you want to describe it. And after many wonderful years climbing the mountains of the world I think I'm probably going to slow down a bit and concentrate more on sailing and cycling. To finish sailing round the world on a square rigger and riding round the world on my bicycle before I turn 80 are on the list. Anything is possible… you just have to take the first step, and if you don't succeed, well, at least you tried and you can always have another go," he said.
Mr Mellor has climbed over a dozen mountains, including seven of the highest peaks in the world. In 2014, he, along with two other friends – Peter Higgs of Nassau, and Chuck Laird, of California, cycled 2,500 miles across seven states of the US in 53 days.