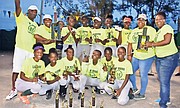 THE Government Secondary Schools Sports Association completed its one-game championships for the girls' softball and boys' baseball at the Baillou Hills Sporting Complex on Monday.
The LW Young Golden Eagles knocked off the AF Adderley Fighting Tigers 15-11 for the junior girls' softball title as Nabia Hamilton was named the most valuable player.
In the senior girls' softball, the CV Bethel Stingrays nipped the CR Walker Knights 7-6 for their title as Philis Major was named the MVP.
The HO Nash Lions routed the TA Thompson Scorpions 15-3 in the junior boys baseball as Sanchez Sands was named MVP.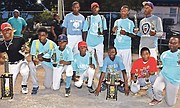 The Lions won the title for the fourth year.
And Tyneke Fowler was named the MVP as CR Walker blasted the Government High Magicmen 14-4 to clinch the senior boys' baseball crown for the fifth time.
The softball and baseball closed out the GSSSA 2017/18 season and president Varel Davis said it has been a very competitive one.
"So far we had an excellent year, 2017/2018," Davis said. "I'm hoping that next year will be bigger and better. We have some things planned for the next school year. But the season went very well, despite the inclement weather we had."
Davis, who was returned to office for her second term at the beginning of the year, applauded the coaches for the manner in which they prepared their teams for the season.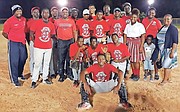 "It played a factor in the level of play that we saw this year," she stated.
"So hats off to the coaches and all the schools for their participation this year."
As the season concluded, Davis said the level of play improved, especially in baseball where more of the boys are participating in the Freedom Farm Baseball League.
"The level of play has really improved from that aspect," she stressed. "It's a plus for us. We went out with a bang and we are looking forward to a bigger year in 2018/2019."