Tuesday, November 6, 2018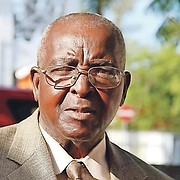 By BRENT STUBBS
Senior Sports Reporter
bstubbs@tribunemedia.net
FRANKLYN 'Cinderella' Sweeting Sr, better known for his pitching duties in baseball and coaching in softball, suddenly passed away around noon on Sunday.
Sweeting, who turned 76 on August 19, was at Comfort Suites on Paradise Island as a taxi driver waiting for a fare on Saturday when he started to experience some ailments and internal bleeding and was rushed to the Princess Margaret Hospital.
He leaves behind his wife Andrea and eight children, including Frank Sr, Theodore, Deandrea and Felipe, who all played softball. The boys also excelled in baseball.
Theodore 'Trea' Jr and Courtney Sweeting, Myron Johnson and Edwin 'EJ' McPhee, four of his grandchildren, are also active in sport.
Theodore Sr, better known as Teddy, said it was somewhat of a shock but, as a family, they were preparing for the ultimate for a while. "We were thankful and grateful to God that he spared us with 10 or 11 more years of his life after he had a major incident with aneurysm," his son said. "It was amazing that he made it off the operating table.
"We were appreciative at that time. We were under the impression that he probably had a leak again, which caused the internal bleeding that he was experiencing over the last day or two, which they could not get under control and eventually took his life."
Despite his passing, Teddy Sweeting said they are comforted to note that their father prepared himself for his passing and he also prepared them that it could have happened at anytime.
"So we were all mentally prepared and emotionally from a standpoint knowing that it was inevitable."
Each day, Sweeting Sr left home around 5:30am and returned after 2pm to work as a taxi driver, enjoying what he loved doing, as prescribed by his doctors.
Two years ago, Sweeting Sr was inducted into the Bahamas National Hall of Fame as one of the country's top pitchers.
A lot of his accomplishments have been archived by Jeff 'Sangy' Francis on his website baseballbahamas.net. Francis, a long-time baseball player turned historian, said before he started playing, he used to watch Sweeting Sr pitch in the Bahamas Baseball Association.
"He was one of the main pitchers, but I used to hate it when he pitched against the team that I pulled for," said Francis of Schlitz Beer and Del Jane when they played against Sweeting Sr and the Beck's Bees/Paradise Island and I-Need-A-Laundry. "Frankie was a tough opponent and when I went into the senior league, I had to play against him. He was one of those pitchers who made sure and let the rookies know they were rookies. They were willing to brush you off the plate when they threw the ball at your ankle."
After retiring from playing, Francis turned his attention to coaching and administration of the sport with the formation of Freedom Farm and the now defunct Bahamas Baseball Federation.
Along the way, he produced his own website for local baseball where he highlights the history of many of the former greats and the performances of the current baseball players.
"Me and Frankie was that close. I also coached against him when he coached Buttons Formal Wear and Dudley's Panthers," Francis said.
"We were rival coaches. But I also followed him and I came across some history when he won 19 games. He came close to becoming a 20-game winner. I saw his accomplishments in Wichita (Kansas) where he was the only Bahamian to win three games at tournament."
Persons interested in following the site can log onto baseballbahamas.net and under the menu, they can click on impact of the game.
Sweeting Sr also made an impact in softball where he assisted manager Ali Culmer with the Colina Crows, a perennial championship and runner-up ladies team in the New Providence Softball Association.
"We've been friends for a long time. I've known from the Banana Bowl days when he used to play the drums in the band," Culmer reflected.
"Living out east, we continued to remain pretty close. We used to go walking together sometimes to stay in shape. But he coached with me for many years and we travelled whenever the team had to travel."
Culmer said Sweeting Sr was very knowledgeable about the game that he loved. He tried his best to help people excel to the next level.
But on a personal note, Culmer said Sweeting Sr was a very nice friend and he will be missed. He revealed that the Colina Crows will be visiting the family as a team reunion.
The Tribune extends condolences to the Sweeting family.