Wednesday, November 7, 2018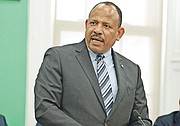 By NATARIO McKENZIE
Tribune Business Reporter
nmckenzie@tribunemedia.net
Healthcare industry stakeholders were yesterday told by a Cabinet minister not to "pull any punches" by holding back on concerns over the revised National Health Insurance (NHI) model.
Dr Duane Sands, pictured, minister of health, said the proposal was no "fait accompli", and that constructive criticism of the proposal recently released by the National Health Insurance Authority (NHI) was welcome to make the scheme's design better.
"The prime minister and the Cabinet have made it very clear that we are inviting the opinions of all the stakeholders in the community before we make a final decision," Dr Sands said. "The scope, the cost, the financing of NHI has not been agreed or decided by Cabinet.
"A formal position has been made by the NHI Authority that we believe is an excellent start. Now we would like, and are hearing, the insurance industry's opinions and the unions make their comments. We would like as many stakeholders to say how they feel about this, what they like, what they don't like about it, what they hate about it, make some recommendations about how we can fund this differently because it is a fundamental reform of our social safety network."
Dr Sands added: "I would like everyone to say exactly how they feel; don't pull any punches. We are going to take this information, look at it and make a determination at the Cabinet level on how we will proceed.
"I think this is what democracy is all about. It is consultative, inclusive, and as many people who can contribute to our national development should be invited and encouraged to do so."
Bahamian insurers have already warned that the $1,000 annual premium for National Health Insurance's (NHI) basic package may "grossly underestimate" the true cost of the scheme's benefits.
The Bahamas Insurance Association (BIA), releasing the industry's "position paper" on the Government's revised NHI model, has called on it to produce data and empirical studies that showed how it had determined the scheme's costs and employer/employee contributions.
"We will look at every single suggestion and incorporate that into a final decision made by the Cabinet of the Bahamas," reiterated Dr Sands yesterday. "It would be unreasonable to suppose there is a fait accompli with any aspect of NHI.
"The benefits package may be different. The time of roll-out may be different, the cost may be different, how we pay for it may be different. I think it's important for us to look at this holistically. You are not to just focus on one aspect and say that's a game changer."