Thursday, November 8, 2018
The Government High School Magic Men mystified the Doris Johnson Mystic Marlins to claim the Government Secondary Schools Sports Association senior boys' volleyball championship title.
GHS defeated the Doris Johnson Mystic Marlins at the AF Adderley Gymnasium on Tuesday night.
Claiming the second game for a sweep of the best-of-three game series, the Magic Men proved that what makes great magic is focused execution, consistent effort, effective communication, and relentless preparation. They won 25-21, 22-25 and 15-7.
On Monday, they took game one with set scores of 25-13 and 25-12.
Supported by their principal, Eloise Whyms, administrators, teachers, support staff and students, the Magic Men, coached by Theodore Hanna and Bernice Penn, fought to an 8-1 record in the regular season to win the pennant, before capping it all off with their championship victory.
As they say in Magic country, they don't do average, they do awesome. It was a clean sweep for the other three divisional championships as well.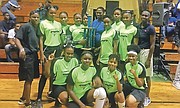 Senior girls
The CV Bethel Stingrays stung the Anatol Rodgers Timberwolves in two straight games to claim the senior girls' title. In game two on Tuesday, the Stingrays won 25-13 and 25-22. The Stingrays' scores in game one on Monday was 25-20 and 25-22 over the Timberwolves.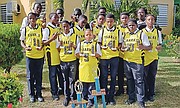 Junior boys
The SC McPherson Sharks devoured the CH Reeves Raptors to clinch the junior boys' crown in two straight games. In game one on Monday, SC McPherson pulled off a 25-18, 22-25 and 15-11 decision over CH Reeves. They came back in the finale on Tuesday and the Sharks won 25-20 and 25-22 to hoist the trophy.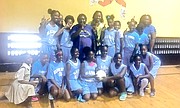 Junior girls
The HO Nash Lions roared past the AF Adderley Fighting Tigers in two games as well to secure the junior girls' title.
On Tuesday, the Lions wrapped up the title with a 25-15 and 25-16 decision over the Fighting Tigers after they won game one on Monday, 25-17 and 25-15.
Up next for the GSSSA is basketball, headed by Varel Davis, scheduled to begin on November 26.