Thursday, November 8, 2018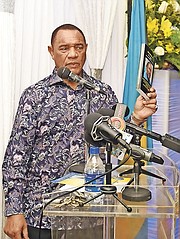 By RASHAD ROLLE
Tribune Staff Reporter
rrolle@tribunemedia.net
BRADLEY Roberts' former cabinet, parliamentary and party colleagues hailed him as a definitive representation of the Progressive Liberal Party's philosophies during a memorial at the PLP headquarters last night.
Among those who paid tribute to him were former Prime Minister Perry Christie, former Attorneys General Allyson Maynard Gibson and Alfred Sears, former Labour Minister Shane Gibson, and former MP and Sunshine Holdings chairman Sir Franklyn Wilson.
Mr Gibson considered Mr Roberts a mentor and praised his skill as a debater. "He could tear down the entire parliament by himself and didn't need any help," he said. "He was one of the most dynamic politicians this Bahamas has ever seen. He was one of those colleagues around the table who if he told you he will do something, you could take it to the bank that he will get it done."
Mr Sears similarly highlighted Mr Roberts' knack for uncovering damaging information about his political opponents, which he unveiled to the country to devastating effect at times in his career. "His resourceful research transformed the proverbial garbage can into a reliable source of intelligence which made him a powerful debater in parliament and a powerful political commentator," Mr Sears said.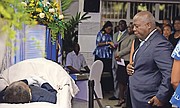 Sir Franklyn drew parallels between the challenges the PLP faced between 1997-2002, when it had just four MPs in parliament, to what the party faces now, saying Mr Roberts' role in helping the party win the 2002 general election should inspire the party. "All who think the PLP is weak," Sir Franklyn said, "I want to make the point, the former leader is here, I believe he recalled a meeting we had in August 2001. Five of us were there. If you did opinion polls saying the PLP would win in 2002, I don't know what the poll would say, save and except not a chance in hell. But look at what happened.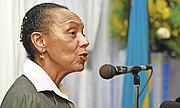 "Look at what came out of that garbage can…Bradley's record is so clear. You can't be confused. When we have lectures to tell candidates what we expect, be like Bradley, you can't go wrong. If the PLP could be where they were in August 2001 and win the way they did in 2002, don't let no analyst, no one tell you anything about what will happen in 2022 based on what they suspect today."
For his part, Mr Christie said he chose Mr Roberts to be Minister of Works in his first administration because of his "incredible experience, connectively throughout the country from the lowest to the highest, having worked with white and black and therefore clearly accomplished to get amazing results as a minister which he did."
Mr Christie said Mr Roberts will be permanently credited with the installing of fibre optic cables throughout the country.Noting how fragile the country's communication system once was, Mr Christie recounted Mr Roberts' fibre optic cables pitch to him. BTC, then BATELCO, wanted to install the cables in just six islands, he said, because officials there believed it would not be profitable to install them in smaller islands.
He said Mr Roberts made the case for installing the cables through the entire Bahamas. "He came and said this is beyond economics, about connecting the country with fibre optic cable for ever and ever," Mr Christie recalled. "The government made a decision based on Bradley's advice to spend $68m to put fibre optic cable through the Commonwealth; he didn't discriminate against any islands and wanted it for smaller islands too."