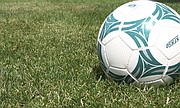 THE Bahamas men's national soccer team was named yesterday by the Bahamas Football Association to compete in a Nations League match against Antigua and Barbuda on October 12.
"This squad changed slightly based on performances in the previous game in Belize, as well as the availability of players to get releases from college teams who are in season.
"The squad added a few seasoned players to bring experience to the squad," according to a press release.
The match is all set to begin at 6pm in the Thomas A Robinson National Stadium. The gate opens at 4pm and the event is free to the public.
"The public is being asked to come out and support our Junkanoo Boys. Wear gold for the victory," said the release.
TEAM BAHAMAS
• Christopher Godet
• Christopher Rahming
• Denzel Deveaux
• Isiah Collie
• Jaelin Williams
• Julio Jameson
• Lesly St Fleur
• Mario Johnson
• Nesly Jean
• Raymorn Sturrup
• Ricardo McPhee
• Sonny Francois
• Ian Lowe
• Terry Delancey
• Tre Barry
• Troy Pinder
• Valin Bodie
• ReJohn Ene
Head Coach: Dion Godet
Assistant Coach: Paul
James
Goalkeeper Coach:
Avery Kemp
Team Manager: Larry
Minns