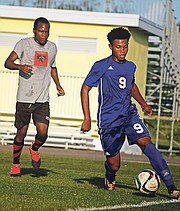 THE UB Mingoes soccer team - thanks to some great defence - defeated the Warriors 2-1 to remain undefeated in the Bahamas Football Association preseason on Sunday.
The Mingoes scored twice in the match at the Roscow AL Davies Field - once from Elcott Johnson in the 35th minute and an own goal in the 70th minute.
"Today was a good psychological win because we've played Warriors before and they're a top class team and we've drawn them but never beaten them and they've beaten us," Mingoes head coach Dion Godet said.
"This doesn't say that we have a cake walk in the regular season but this says we can climb the mountain and we got to the top today.
"It was a good win and a good effort by the Warriors.
"It was a good booster for the team."
Even though Godet is thankful for the win he felt the team could have played better.
"I would have like to have seen more offence and traditionally our offence is a challenge as our defence is always rock solid," he added.
"Defence I would again say won the game by keeping the score as close to zero as possible but we need to find a way to produce goals because that's what wins games."
With a few weeks before the start of the season, Godet says the team still has a few improvements if they want to repeat as champions.
"We have to work on our passing and thinking quick," he said. "That's the big thing, if we're going to be top of the league we have to think quick."
The Mingoes ended last BFA season with a 8-1-0 record and the league championship.