Thursday, October 11, 2018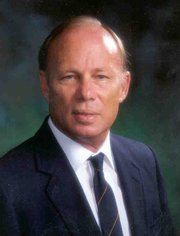 By NEIL HARTNELL
Tribune Business Editor
nhartnell@tribunemedia.net
Bank of The Bahamas was yesterday urged to release a detailed revival strategy at its upcoming shareholders' meeting otherwise confidence created by its return to profitability will "wane".
Mike Lightbourn, pictured, Coldwell Banker Lightbourn Realty's president, and one of the BISX-listed institution's 3,000 minority investors, warned that recent momentum could be lost unless the board and management demonstrate how they plan to maintain - and sustain - the end to six years of consecutive multi-million dollar losses.
Revealing that he was "happily surprised" by Bank of The Bahamas (BOB) return to the black, Mr Lightbourn praised the bank's senior executives for "trying to restore sanity" following a series of Government bail-outs and capital injections that to-date have totalled more than $300m.
"I'm delighted to hear that's the case, although I wouldn't buy any more shares though," he said of BOB's 2018 financial results. "I just question how it's possible given what's been going on. Hopefully they're not making any more loans to politically exposed persons (PEPS).
"They're trying to restore sanity, and at least they're headed in the right direction. It's [the return to profitability] a good sign. All I can say is I'm encouraged. They were doing their damndest to
But despite BOB's improved financial performance for the year to end-June 2018, virtually no details have been provided to its 3,000 minority shareholders on how the institution plans to maintain profitability or develop a sustainable business model for the future.
Jihanne Hosmillo-Williams, BOB's chief financial officer, said the bank was focused on improving collections, corporate governance, operational efficiency and customer care, as well as reducing costs, as part of its turnaround plan.
Yet her comments did not go beyond broad-brush statements. "Achieving optimal operating efficiencies and increased value creation for all stakeholders remain our primary emphasis," Ms Hosmillo-Williams said. "The bank continues on its path of rebuilding, and we are working steadfastly to a period of sustained profitability."
Mr Lightbourn yesterday said it was now critical for BOB to produce a detailed turnaround plan at its upcoming annual general meeting (AGM) to maintain the confidence of shareholders, depositors and the wider Bahamian capital markets.
"They have to come up with some sort of plan they're going to tell us," he told Tribune Business. "Hopefully they'll give us more detail to let us know how they intend to proceed and make things profitable on a sustainable banking basis.
"They've got to produce something. Obviously, if they don't the confidence they've generated as a result of these results will wane. There needs to be a strategy."
BOB recorded its first full-year of profitability since 2012 during the 18 months to end-June, generating $2.532m in total comprehensive income compared to a $46.494m loss the year before.
The "red ink" in 2017 was related entirely to the $51.957m in loan loss provisions that were incurred, a figure that was cut to $7.568m for the 12 months to end-June 2018 as a result of the second Bahamas Resolve transaction that removed more toxic commercial loans from BOB's balance sheet.
Interest income, though, was down compared to 2017 at $36.791m, with the improved operating improvement driven by greater fee and commission income coupled with lower interest expense stemming from a reduced Prime and deposit rates.
BOB's balance sheet also received a further $56.7m boost from the Government in the form of Treasury Bills, which are described as "cash equivalents".
As short-term government debt, Treasury Bills are regarded as highly liquid and akin to cash, but BOB's financial statements provide no explanation for where these securities have come from or the rationale for their injection.
One plausible explanation is that the Treasury Bill increase, together with the 26 percent year-over-year increase in cash on hand and lodged with the Central Bank to $123.538m, relates to the redemption of the $100m in promissory notes that were used to shore up BOB's balance sheet during the first Bahamas Resolve bail-out in October 2014.
These bonds were injected into the balance sheet in exchange for the toxic commercial loans that had to be removed to save BOB from collapse. BOB's 2018 financials confirmed that the first $100m worth of bonds were redeemed on schedule, with the last $12m payment made on May 18 and, given that the Government is strapped for cash, the Treasury Bills may have been used to effect part-payment.
Still, without the Treasury Bills and remaining $167.7m in promissory notes from the second Bahamas Resolve bail-out, BOB's financials show the bank would be insolvent with liabilities exceeding assets to leave it in a "negative net worth" position.
The extent to which Bahamian taxpayers continue to remain exposed to BOB through the Government's continued financial support is starkly illustrated by the financials, which show that the loans acquired from the bank by Bahamas Resolve are worth just 37.6 percent of the principal amount paid.
The Government-owned special purpose vehicle (SPV) paid $134.5m, and another $33.7m for "accrued interest", to obtain toxic commercial loans that BOB's statements concede had "a total net book value of approximately $50.6m".