Wednesday, September 12, 2018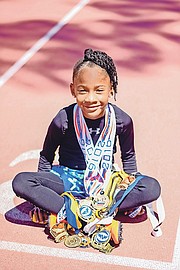 By BRENT STUBBS
Senior Sports Reporter
bstubbs@tribunemedia.net
MOVE over Shaunae Miller-Uibo. Seven-year-old Brianna Bootle proclaims that she will become the next great Bahamian superstar as a track and field sprint sensation.
"Most people do not believe that I am an athlete, but I started running track when I was very young at the age of four with the 3PA Stallions Track Club," Bootle said.
Over the past three years, Bootle has turned many heads and made a lot of believers out of the doubters with her impressive performances, not just here at home, but in Orlando, Florida where she has been stellar.
In 2016 in her first meet at the AAU Championships in Orlando, Bootle was able to run 16.84 seconds in the 100m as she went on to secure three primary school records in the 5-and-under age group.
Over the past two years, she returned to Orlando and has been able to hold her own in the 50m, 100m and 200m.
"I work hard training with both of my coaches, coach Rolle and coach Mike to make sure that I always do my best," Bootle said. "I enjoy running track and field because I am great at it.
"God has given me this talent and one day I hope to be as good as Shaunae Miller-Uibo or even better and to make my country proud," she said.
Coach Cedricka Rolle said while Jamaica can celebrate with young Brianna Williams, coached by Ato Bolden, the Bahamas has a Brianna Bootle to look out for in the future. "The Bahamas should be proud of this up and coming young athlete, who is doing very well in a system that produced many of the USA pro athletes," Rolle said.
She was referring to the success of Bootle, who remained undefeated in her past three appearances at the AAU Primary National Championships in Orlando.
Although her latest accomplishment was achieved over the weekend of July 6-7, Rolle said it's never too late to recognise the performances of a rising young star.
When she's not training, Bootle said she enjoys listening to music and dancing. She lists her favourite colours as pink and purple and she enjoys eating fish, but really loves strawberry daiquiris because they are sweet.
Bootle, a grade two student at St Thomas More, was so energetic as a young child that couldn't keep still, so her mother Michelle Russell decided to get her involved in track to make use of her energy.
"A friend highly recommended 3PA Stallions Track Club where she is actively part of the club," Russell said.
Brianna's father is Brian Bootle.