Thursday, September 27, 2018
By RASHAD ROLLE
Tribune Staff Reporter
rrolle@tribunemedia.net
NATIONAL Security Minister Marvin Dames said the shooting death of Inspector Carlis Blatch, former aide-de-camp to Governor General Dame Marguerite Pindling, should renew the country's fight against violent crime which has ravaged communities over the past several decades. 
He was speaking at the military funeral for Inspector Blatch held at the Church of God Auditorium.
"Insp Blatch was a decent human being, a public figure, a police inspector and the aide to the Governor General, and because of who he was in life, bears witness to the widespread public attention garnered due to his untimely demise," he said.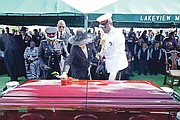 "The reality is that his death is no different from the many persons who have lost their lives in our nation as a result of violence. If there is a silver lining to all of this, it is with hope that his untimely and brutal death has brought most needed focus to the incessant murders that have occurred in our nation over the last few decades.
"Insp Blatch's death and the death of all of those voiceless Bahamians can only effect change if each of us here today, makes a conscientious decision to play a renewed role in the nurturing of our children, especially our young men, with a view to putting an end to these senseless acts of violence."
Blatch was the first police officer this year to be shot and killed.
Mr Dames, describing the thankless work of officers, said: "When most are asleep in cozy beds, the Police are awake and alert, to save the lives of those they have never met. When others are engaged in celebratory activities, the Police are detailed for duty. While others don fancy suits and dresses, the Police don war gear of ballistic vests and guns. An error in judgment in the line of duty, results in injuries and deaths. When the police tell their families, they will see them later, it is only through answered prayer that they do. The Police are our friends. So the next time we encounter a police officer, pause to reflect on the sacrifices they make each day. Some professions sacrifice time; other professions sacrifice resources; the Police may at times, sacrifice their lives."
Police Commissioner Anthony Ferguson remembered Blatch as a "well-groomed and stately officer" who was "diligent, committed, persistent and dependable."
He read letters related to Blatch during the slain officer's 14 year career in the Security and Intelligence Branch.
In one letter, former Governor General Dame Ivy Dumont wrote to him: "…you have fitted nicely into the team and performed your duties with aplomb. I realized that you function under the hardship of being separated from your family in Exuma; yet your cheerfulness helps to light up everyone's day."
In another letter, former Governor General Sir Arthur Foulkes wrote to a former police commissioner, saying: "One of the functions over which I had to preside was the presentation of Letters of Credentials by the Belgian Ambassador, and I am proud to say that your officers, Mr Roberts and Mr Blatch, performed with a high level of professionalism."
The widely-respected aide-de-camp was shot in front of his daughter while they waited in his car outside HO Nash Junior High School to pick-up his son. He later died in the Princess Margaret Hospital from his injuries on September 12.