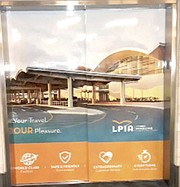 The Nassau Airport Development Company (NAD) is introducing a new vision, branding and special offers from its retail/restaurant tenants to improve traveller experiences at the nation's largest airport.
"When people think of travel, the first thing that comes to mind is scheduling. 'Will my flight depart on time? Will the ride be smooth? Can I count on my luggage arriving at the same time I do?' The travelling public rarely stops to think about what their experience in the departure lounge is going to be like," said Jan Knowles, NAD's vice-president of marketing and commercial development.
"We realise that the opportunity always exists to make that wait for a flight a memorable time, topping off the flavour and memories of a great vacation for visitors and inviting stress-free pleasure for locals heading off whether for business, medical or holiday."
NAD hired a local marketing agency, which it did not name, to help created a new vision for the airport. Called "Your travel, Our pleasure", this branding rolls out this week to coincide with special offers by Lynden Pindling International Airport's (LPIA) retail vendors and digital coupons.
"We are anticipating a record number of travellers over the Thanksgiving weekend," said Ms Knowles. "What better time to introduce a new experience that adds to the festivities and excitement of the start of the holiday season?"
During the campaign's planning stages, airport vendors helped by each developing an in-store special ranging from gifts to discounts on purchases. Ms Knowles called the effort "a true partnership that included new store displays, more products, even better eats and brighter smiles".
Bright signage throughout the LPIA terminal will invite guests to do more when it comes to patronising retail and restaurant tenants. The campaign also involved additional staff training.
"We live in a digital age, so one of the things we are most excited about is the ability to remind travellers of all we have to offer on our digital assets throughout the airport," said Ms Knowles.
"Our goal in the coming year is to use all technology available to provide information that takes the stress right out of travelling, and makes spending time in the airport a pleasure. We believe that the more fun we make it, the better it will be for travellers because they will want to arrive early and that alone eliminates the stress of a last-minute rush."
LPIA is the fourth busiest airport in the Caribbean, and for the past three years has ranked in the top three. Up to October 30, 2019, close to 3.5m passengers passed through Nassau's airport travelling within The Bahamas and internationally.