Monday, February 11, 2019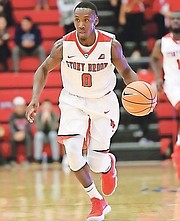 By RENALDO DORSETT
Tribune Sports Reporter
rdorsett@tribunemedia.net
A career night from Jaron Cornish powered the Stony Brook Seawolves to its eighth win in conference play, highlighting the weekend for Bahamian student-athletes in NCAA Division I basketball.
Cornish scored a career-high 30 points to lead the Seawolves to a 76-65 win over the UMass Lowell River Hawks Saturday night at Island Federal Arena in New York.
The senior point guard shot 11-18 from the field, 3-6 from three point range, 5-5 from the free throw line and also added six rebounds and a career high four steals in 35 minutes.
It was the first 30-point performance by a Stony Brook player this season, as the Seawolves improved to 20-5 on the season, 8-2 in America East Conference play.
The Abaco native scored 17 of his 30 points in the second half, including nine by himself through the middle of the period.
It was the third consecutive win for the Sea Wolves, following their only back-to-back losses of the season.
"Our community and students have been incredible these last few games. The atmosphere was again outstanding tonight because of them. UMass Lowell got off to a really good start and I don't think we were guarding them too well. We talked about rebounding at the half, which has really been our bread and butter all year," Seawolves Jeff Boals said, "Jaron Cornish was phenomenal in the second half and our defense was really good at the end to get the win. That was a high-powered offense and being able to hold them to 65 points was great."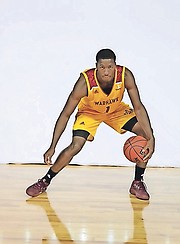 Cornish took over and gave Stony Brook the lead for good with 12:37 left to play in the second half. He went on a personal 9-0 run put his team ahead 56-48 with 11:22 to play.
He had previously scored 22 on two separate occasions, the most recent being against Norfolk State on November 27.
Travis Muninngs recorded his second double double of the season and helped his ULM Warhawks to an 88-79 win over the Georgia Southern Eagles.
The Warhawks improved to 13-10, 6-5 in the Sun Belt Conference and an 11-1 record at Fant-Ewing Coliseum in Louisiana.
"I'm really proud of our team and their mental toughness in this game," ULM coach Keith Richard said. "This was a hard game to play. "They were hard to stop, and they had hard time stopping us," Richard said. "But we did get a few stops down the stretch which were critical, critical stops."
Rashad Davis and the UTSA Mavericks scored a ten-point win over Appalachian State, 78-68. He finished with seven points, six rebounds, three assists and two steals.
The Mavs (12-12, 8-3 SBC) remained in first place in the Sun Belt Conference.
"I wasn't necessarily happy with the way we started the game; we just didn't have the same pop and intensity that we've been playing with. But I'm happy to get the win – they're hard to get in February," Mavs head coach Chris Ogden said, "Give our guys all the credit: they've put themselves in position to be in a tie for 1st place. As long as we keep getting better we'll stay a part of this fight for the regular-season championship."
Nathan Bain finished with seven points in Stephen F Austin's 82-67 loss to Lamar and Charles Bain chipped in with 10 points in Robert Morris' 77-68 loss to Central Connecticut.