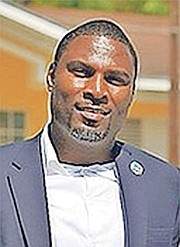 By RENALDO DORSETT
Tribune Sports Reporter
rdorsett@tribunemedia.net
IN an effort to rebrand its image through a series of innovative marketing strategies, the new BAAAs administration unveiled its new logo and plans to engage a new demographic.
Newly elected BAAA President Drumeco Archer and his administration's marketing team outlined several of their mandates at yesterday's press conference.
He said they will be looking at promoting track and field differently, not just for the track fans, but to make the sport relevant throughout the country by doing some innovative things where the innovation of the BAAA will take shape over the next four years they are in office.
"This year marks 67 years since the BAAAs has been founded and during that time we were known for a particular look and feel. We now want to have greater appeal to younger persons. The statistics tells us that the average follower of track and field is in the mid 50s so our challenge is to make our sport appealing to a younger generation. We want to look at the changing times in track and field," he said. "So, we are moving from a phase with the BAAAs and one day we look to call ourselves Bahamas Track and Field. We hope that it will become something that we can be proud of and very quickly identifiable."
This marks the third edition of an official BAAAs logo. The original BAAAs logo was designed by former BAAAs President Winston Gus Cooper and was amended by Iram Lewis.
"One of the mandates that we have set out to do early in our administration is work closely with the University of the Bahamas and UB will be a spring board for us to be engaged in our marketing efforts," Archer said.
"Those are where the millennials are and we want to be able to tap into that resource. We want to explore social media through our athletes themselves. They are the ones we hope will use our platform to their network of persons."
The first event on the calendar will be the Odd Distance meet, to be hosted January 5 at the Thomas Robinson stadium from noon to 6pm. The meet, which enables competitors to run different events such as the 75, 150, 300, 500, 600 and 1200 metres on the track and use a shorter approach or standing positions for the jumping and throwing events, will be a benchmark for the BAAA programme for 2019.
"The odd distance serves as somewhat of an icebreaker for the athletes. Coaches want to assess athletes in terms of their technique and form and these kids are excited and come out and run in an event where there is no real pressure on them before they start running some fast times," said Kermit Taylor, vice president of marketing and public relations.
"One thing we have not done a good job of is highlighting our top performances so we want to do a better job of that and we hope that will translate to numbers in the stands."
Eric Ward, another member of the marketing team, outlined how this weekend's meet plans to be more entertaining to patrons. "We have invited a few of the radio stations to the odd distance meet and we have invited them to bring their personalities to the track meet and become participants. "These are the people that talk to the community so we want to get them involved in track and field. We want to get them involved in track and field and be able to speak to their audience in terms of what we will be doing.
"We want to incorporate the things they enjoy at the track meet," he said. "In this first meet coming up we will have a battle of the DJs and they will compete and play music in between the different events and we will structure it so that they can have a competition at the same time as the athletes. They will have content to go back on the radio and talk about the athletes and experience, hopefully translating that level of enthusiasm into the marketplace."
Archer and his 'Be the G.O.A.T' - Greatest Of All Time – team pulled off a landslide victory over incumbent president Rosamunde Carey and her Bonafide Innovators to become the new president of the BAAAs for the next four years.
He was joined by Ravanno Ferguson, the first Grand Bahamian to win an executive position on the board, as first vice president and Rupert Gardiner as the second vice president.
With a new constitution in place to govern the BAAA, incumbent Sharon Gardiner is now the vice president of finance, veteran Frank 'Pancho' Rahming is back as vice president of technical operations and Dawn Johnson is vice president of operations.
Also elected to serve as members of the council are John Ingraham, Mike Sands, Bradley Cooper, Sophia Higgs, Jerial Forbes, Stephen Murray and Christian Knowles.