THE University of the Bahamas Mingoes men's basketball team is looking to reverse a local and international losing streak as the new year starts.
"When we come back we expect to see a more intense team, a more unified team, head coach Bacchus Rolle said.
"I believe if we have that we're going to have a surprise at the end of the year for NPBA."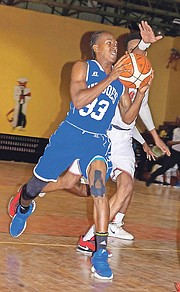 The Mingoes are currently 5-2 in Division One of the New Providence Basketball Association after starting the season with five straight wins.
The Mingoes lost the last two games of the 2018 half of the season to go along with an 0-5 record in international play.
Kemsy Sylvestre has also been putting up some good numbers for the team in the NPBA, including leading the league in steals (averaging 3.57 a game) and sitting in the top 10 in four other major categories - assists (3rd – 4.57 a games), points (4th – 19.57 points a game), blocks (6th – 1.29 a game), and rebounds (9th – 9.57 a game)
"He's been putting up great numbers to lead the team and has been our go-to guy for most of the season," Rolle said.
The Mingoes play the PJ Stingers 8:30pm on Monday at the AF Adderley Gymnasium and then head out on a three-game tour in Central Florida against Johnson University on January 10, Pensacola Christian College on January 11 and Grace Christian College on January 12.
Despite the two-game losing streak to end the 2018 half of the NPBA season, coach Rolle says the team still is looking sharp.
"We learn that we can play with them here in the league," he said.
"The reality is we are not as far down from the number one spot as people think we are and so for us to know that and build on that and have the confidence in ourselves that we can repeat these types of performances night in and night out in this league, we hope that when the dust clears UB basketball will be right there in the mix."
Looking to the second half of the NPBA season and the final international tour for the school year, Rolle says he's looking for big things from his captain and point guard Ramon "Shakey" Dames.
"We need more leadership in my opinion from him," he said. "He's a great player but he needs to get his act together not in a negative way but he knows what he's capable of doing and he has to not let himself down and be the basketball player that he is capable of being."
Rolle also says he's seen some great performances from others on the team such as Antwan Bevans who he says has been putting up some great numbers. "He needs to continue putting in solid nights along with good performances from our bench players like Romero Cornish and Kristoff McKenzie - these guys are sharpshooters. So if all that can happen we can really see some good things happen for us."