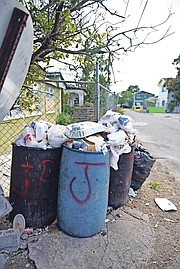 By RIEL MAJOR
RESIDENTS of Chippingham have complained about the mounds of unsightly trash that has yet to be collected from the Christmas season.
The Tribune canvassed the Chippingham area yesterday and spoke to numerous disgruntled residents.
One of them, who only wanted to be identified as Ms Lockhart, told The Tribune: "They are supposed to come every Tuesday and move the garbage but from Christmas they haven't got the garbage. Some people moved their garbage with their trucks. Sometimes the garbage truck pass and don't carry any garbage. The conditions aren't good because the garbage smells bad."
Another resident, who did not want to be named, said: "It's real unsanitary. It attracts rodents, the stench is starting to stink. The garbage is piling up in the house, so we have to try to organise it then the stray animals are coming and pulling down the (bags) so the garbage is hard to maintain. It was piled up for about two weeks now."
Resident, Karen Sampson said she doesn't understand what is taking place.
"I know for the past months (garbage men) were coming every Monday until the second week in December. We have the garbage secured but we don't know what is going on."
Wanetta Brown said: "They need to do something. No one came around to say anything and I haven't seen anything on the news to say trucks are down. December is a festive time so this the time you are going to accumulate more stuff because people having parties and family gatherings so if anything, they should increase the number of pickups they do for the month of December."
Another resident, who only wanted to be identified as Mr Holmes, said: "I haven't got any response from Environmental Health. I actually heard a garbage truck around here today and I thought they were coming to collect the garbage, but they never did. (The uncollected trash) attracts rodents, a lot of maggots and stuff with decaying garbage so it is a problem that creates a health concern for me and my neighbours so my only wish is that whatever they have going on, it can get resolved soon."
Another resident said she saw a garbage truck last week, but trash was only collected from one side of the street.
Altomese Isaacs said her garbage hasn't been collected since before Christmas and claimed the rats in the area "are a big as puppies."
"My garbage hasn't been collected from before Christmas," Ms Isaacs said. "I almost call (someone to collect my garbage) on my own but I couldn't afford it. I had to choose between paying the doctor and paying them. I understand they were in the area this morning because I spoke to someone from Environmental Health, but they haven't reached here yet. I still have garbage piled up in my house. I don't know what is happening."
Resident Bruce Sweeting said he spoke with officials from the Department of Environmental Health and thought the area's trash would have been picked up on the weekend.
"They were supposed to be here from Saturday or Sunday, but they haven't reached yet so I don't know. It's a disgrace because what it's doing is causing rats and roaches to come then you (have stray) dogs coming. They are tearing down the garbage and you have to be out there cleaning and cleaning so it's a lot of work.
"I don't know when they goin' come but the time they come we'll be under garbage. Along with the rats and everything else that is out there."
Attempts to reach officials from the Department of Environmental Health for comment yesterday were unsuccessful up to press time.