By MORGAN ADDERLEY
Tribune Staff Reporter
madderley@tribunemedia.net
ON New Year's Day, Anya Ferguson celebrated the second anniversary of her marriage to missing pilot Byron Ferguson at the site where the couple's wedding reception was held.
"Honestly, I celebrated the day as if he stood in front of me the entire time," Mrs Ferguson told The Tribune yesterday.
Two months ago, Mr Ferguson, 34, and his plane crashed in water off Nirvana Beach and subsequently disappeared. His wife said she will never stop searching for her husband, adding her faith in God and supportive family have kept her going in the midst of tragedy.
It is a story that transfixed and outraged the nation, as officials' response to the tragedy has been widely criticised by Mr Ferguson's family and the general public alike.
One week after the crash occurred, a civilian effort to locate the plane proved to be successful, turning up an estimated 60-70 pieces of debris 60ft away from the plane's original location. In the face of criticism, the Royal Bahamas Defence Force has said its own search efforts yielded debris from the aircraft.
As she copes with the ordeal, the young mother is still angry at how law enforcement handled the matter.
"This is what I expected, honestly," Mrs Ferguson said of the volunteer effort. "If you can watch the tail of the plane sink in plain sight, where you could have touched it but instead recorded."
Mrs Fergusons' comments referenced eyewitness accounts of how the officials handled the initial search and rescue effort.
"If you can report that two tourists were onboard," she continued, "If you can, without evidence release a statement to the media about 'no flight plan', if you cannot send divers into the water Thursday night, Friday, Saturday and Sunday, given that your officers are trained to do these things on command.
"Why am I surprised volunteers found pieces of the plane and you didn't?"
Mrs Ferguson also said communication with government officials has been non-existent.
"As Byron's wife, no government official contacted me," she said. "To my understanding, from other sources, and the newspaper, the RBDF are performing land searches and hoping, I guess to find a plane that's fully submerged underwater."
Despite her clear disenchantment with the authorities that many believe failed her spouse, Mrs Ferguson's love for her husband and hope for his return are palpable.
"We met on a flight to Eleuthera," she said. "He was the captain in command, but the first officer flew that day.
"Byron would not stop looking back at me. I will always remember saying 'why this man won't fly this plane?' Now I'm sitting here picturing that smirk on his face; my handsome guy," she said.
"He always said he would marry me on New Year's Day," Mrs Ferguson continued. "From the very first phone call, he said 'I'm going to marry you and it's going to be New Year's Day.'
"When we became an item, I always looked forward to the first day of the year. His grandparents wed on January 1. He never said this was the reason, but I always assumed he wanted to follow in their footsteps."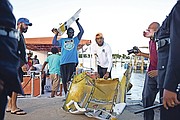 That blissful day occurred on January 1, 2017. On January 25, 2018, the couple welcomed a baby boy, Bryson.
When asked which of his father's traits she hopes her son inherits, Mrs Ferguson said: "I hope he inherits it all.
"I'm already seeing it. The good, and the bad (such as) making up his face when he's angry. My husband is such a loving person. To know him is to love him. There's absolutely no in between. He goes 100 percent or nothing at all.
"My son has a bubbly personality, always smiling and very affectionate — all his dad. He's extremely mischievous, but that's from both sides."
In the aftermath of such a difficult situation, Mrs Ferguson said her faith and her support system have kept her going.
"I pray," she told The Tribune. "I've become closer to God. On my down days, I always remember that God is still a great God and God is still in control. Broken crayons still colour and I am gracefully broken.
"My family has been extremely supportive, my hurt is their hurt, and to this day, they still stand in agreement with me. However, our son is who I lean on the most. I'm reminded of God's love for me every day I wake and get to see Bryson's smile. He knows a whole lot now about affection. So, if I ask for a hug and a kiss, he comes running to my arms.
"Life doesn't stop unfortunately. I always say time is so inconsiderate. However, God does not stop blessing his children and you must love the people God gives you. Remember, it's all for his glory.
"I will never stop searching for my husband. I know that in the interim, I have to keep on going for my son because wherever Byron is, that's what he would want.
"But I will never lose my faith in God and I will always have hope for a phone call or for him to walk through the door. I believe he's going to find his way home. Miracles happen! Just how God can turn day into night and night into day, he can make impossible, possible."
RBDF officials have defended their initial search efforts, with Commodore Tellis Bethel saying in November that marines made every effort but were careful not to compromise safety.
However, he could not definitively tell reporters at what time the search was suspended in the hours following the crash.
Officials gave a list of reasons – from vessels not having sufficient gas to there being low visibility, needing to mobilise additional equipment for a more extensive search, and suggesting fatigue – as to why the search had been called off the night of the crash.
It was also contended that there had been no dive search efforts on the following Saturday and Sunday due to "inclement weather".