Thursday, January 31, 2019
By KHRISNA RUSSELL
Deputy Chief Reporter
krussell@tribunemedia.net
FINANCE Minister K Peter Turnquest told Parliament allegations the government and a local bank thwarted Derek Rolle Kelly's purported  inheritance have no basis and are entirely untrue.
He said no public entity, including the Central Bank, has had or does have knowledge or possession of any funds related to this alleged inheritance.
And neither have the Ministry of Finance, the Central Bank, the Office of the Attorney General, the Ministry of National Security or any other relevant agency been approached by any domestic or international entity on any matter related to the investigation of this issue, Mr Turnquest said.
The story of Rolle, now deceased, and a fortune he claimed he inherited from a deceased American couple have lingered for some twenty years. In the late 1990s, police referred to Rolle as a scam artist and said the fortune he claimed to have inherited was non-existent, according to The Tribune's records.
At the time, Rolle claimed he would pay poor people's bills from this inheritance once they paid a processing fee of $60. 
However, concerns over this rumour have heightened in recent months, flooding social media.
The persistence of the wild claims, which also slandered certain individuals and businesses, led Mr Turnquest, who is also deputy prime minister, to address the matter in the House of Assembly yesterday.
He advised any representatives of Rolle's estate who might have evidence to substantiate the claim to avail themselves of all channels in the Bahamas and abroad to bring resolution.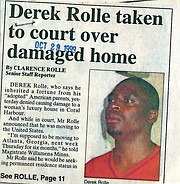 Until such time as they or anyone else is able to present credible evidence the government will not comment further on the matter and considers it closed, Mr Turnquest said yesterday.
"I do regret that I have to address this," Mr Turnquest said. "I rise to make a brief and what I hope shall be a final statement on the matter of the alleged role and knowledge of the Bahamas government in a purported inheritance left to the now deceased Derek Rolle.
"Honourable members and the general public would largely be aware of the story of late Derek Rolle that goes back some twenty years plus. Without rehashing the entire tale, the substance of the matter is that the late Mr Rolle would have allegedly inherited a fortune from a deceased American couple.
"Mr Rolle would have alleged that his efforts to obtain this inheritance had – up until his death - been thwarted by officials of the Bahamas government. The allegations also have stated that government officials and unscrupulous bankers had conspired to hide and steal this inheritance.
"These unfounded allegations had spanned administrations, but had died down over the years. However, recently they have re-emerged and have become a mini-viral phenomena on social media. In some versions of the story, the value of the inheritance is up to $79 billion. Further, as the current iteration of this fanciful tale goes, the government had rushed the recent Dormant Accounts Bill through Parliament so as to abscond with the multi-billion inheritance to the disadvantage of the estate of Mr Rolle.
"Neither the Ministry nor the Central Bank nor the named commercial bank elected to respond formally to this patently absurd tale, simply because it was and is a patently absurd tale. However, given that the matter had been raised by a Member of this House, the government feels that it is important to state its position formally for the record."
He also said: "Further, the government is not aware of any legal action that has been commenced in the Bahamas or any other jurisdiction in respect to what is alleged to be the largest theft of monies ever recorded.
"One would certainly believe that there is more than sufficient incentive for this matter to have been advanced over the last twenty years. There would be literally thousands of lawyers from across the world who would fly to the Bahamas – or the relevant jurisdiction – today to commence action if $79bn was on the line."
Mr Turnquest said while the government could not speak for private entities the Ministry of Finance had reached out to the commercial bank that had been named in the rumours. This bank, he said, similarly indicated that it had no knowledge or possession of any funds related to Rolle.
Centreville MP Reece Chipman stood on a point of order saying it was important that the government did its due diligence and came to a conclusion on this situation as it implicated many persons.
Several weeks ago, Mr Chipman asked the House for a select committee to investigate this case. 
He said: "I am in the financial services industry and my office was right next to the Towne Hotel where Mr Rolle would have had a long line at some point and we were made to believe that something was wrong with this gentleman that would have brought this to the fore. But as of late it has become of national interest because more and more persons were involved with this particular story.
"So I am glad to know that the government would have done their investigation and would have come with some form of conclusion to avoid the anxiety of a country that does and so I just wanted to say that is what good governments do."
'I'm just a Bahamian who came into good fortune'
TWO decades ago, Derek Rolle was deemed the brainchild behind a fraudulent scam and the Royal Bahamas Police Force warned that his purported multi-million-dollar inheritance was non-existent.
On March 17, 1998, The Tribune reported that the now deceased Rolle had been claiming he would pay poor people's outstanding bills from his inherited money once they paid him $60 to cover legal fees and stamp tax.
At the time, he claimed to be heir to $188m, left to him by a deceased American couple who vacationed in the Bahamas.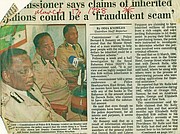 As police publicly declared him a "financial angel" scammer, Rolle insisted he was not trying to rip off unsuspecting people and demanded that then Commissioner of Police Bernard Bonamy apologise for questioning his integrity.
At the time, the former commissioner said: "It is our view, and we highly suspect that this $188m inheritance is non-existent, and we strongly advise the Bahamian public that we are very apprehensive about this scheme and would be well advised not to make any further payment to Derek Rolle and others."
The warning was the result of a week and a half investigation by the RBPF which also found that no money was deposited in any banks in the country and certainly not in the amount claimed by Rolle.
Commissioner Bonamy warned that if Rolle, his associate Labon Ferguson and others did not honour their promises, the police would take further steps to deter any fraudulent scheme, however it was orchestrated.
Police also said they were able to obtain a document from Rolle which he purported to be a will, but they chalked it up as a "bogus document" upon inspection. Several days before the published warning in March 1998, police went to the Towne Hotel where they met with Rolle. There were scores of Bahamians at the hotel who had gone to pay Rolle the $60 fee so he could pay their bills. On that day, he told police that in 1992 while at Orange Hill in Nassau he had met the American couple, George and Elizabeth Kelly from New York.
He claimed that the Kellys adopted him and deposited $188m to his accounts at two well-known banks in New Providence.
He further claimed that Mr Kelly died and he was named heir to their fortune and the money was sent to his accounts.
This was followed by his claim that the Central Bank of the Bahamas put a hold on his account.
A day later on March 18, 1998 Rolle shut down his business at the hotel. He said he did not vacate the hotel but stopped conducting business there.
And then on March 24 of that year, thousands of people in Grand Bahama swarmed the parking lot at Scorpios restaurant to submit their bills for payment, it was reported.
An estimated 2,000 people waited on long lines leading into a small room to present mortgages, car loans and even medical bills. While some expressed scepticism, others were eager to "try their hand" with a man they had never seen. He was also a no show at Calvary Temple four days later in Grand Bahama on March 28.
In the midst of this people were split about the veracity of his claims. Four out of six people surveyed by The Tribune at the time said they believed it was a scam.
More than a year later on April 17, 1999, this newspaper published a warning from the Central Bank which urged people to "exercise caution" if Rolle claimed to have a business relationship with the bank.
The bank insisted it had no relationship with him or was involved in any transaction banking or otherwise with Rolle, Kelly or his company Derek Rolle Enterprises.
Responding, Rolle complained that he was being publicly vilified and that news reports about him left him with a bad name.
"Let me assure you, first of all, that I am no fraud," he said in a letter to The Tribune at the time. He described himself as just a local Bahamian who came into good fortune.
For a time, he added Kelly to his surname and called himself Derek Rolle Kelly, claiming Mrs Kelly was his adopted mother. However he refused to provide her address or phone number.
In 2001 Rolle was said to be seriously ill in a Florida hospital and died in 2016.