By NEIL HARTNELL
Tribune Business Editor
nhartnell@tribunemedia.net
A Cabinet minister yesterday said all stakeholders "must be on our 'A' game" to cope with Lynden Pindling International Airport's (LPIA) imminent reduction to a single runway.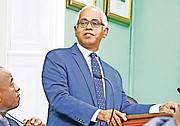 Dionisio D'Aguilar, pictured, minister of tourism and aviation, told Tribune Business that the closure of Runway 09/27 for major rehabilitation from June 17 (see other article on Page 2B) was an "unavoidable necessary infrastructure upgrade" that is essential to keep traffic at The Bahamas' major gateway flowing.
He added that non-commercial aircraft, meaning private planes, will be "encouraged" to shift their hours of operation to non-peak times such as between 12-3pm to minimise congestion with flights that bring the bulk of The Bahamas' high-yield stopover visitors.
However, indicating that delays for both departing and incoming flights will likely be unavoidable this summer, Mr D'Aguilar advised Bahamians and residents to allow more than an extra hour to their itineraries if they had to catch connecting flights in the US and elsewhere.
LPIA will operate with a single runway for four to six months due to the near-$20m upgrade, which will resurface Runway 09/27 and extend its life as well as adding safety areas to the end of the runway to reduce damage to aircraft that overshoot.
Voicing optimism that no major disruption to The Bahamas' stopover tourism industry will result as the sector moves into the off-peak summer and fall months, Mr D'Aguilar conceded: "We really have to be on our 'A' game to make this work.
"Everybody is appraised on what the issues are, and everybody is ready. All the stakeholders got in with the plan, everybody was in the room - NAD (Nassau Airport Development Company) was involved, and air traffic control. The main runway, 1432, has to be kept moving and active, especially in critical parts of the day."
To achieve this, Mr D'Aguilar said non-commercial flights and private pilots may have to alter their operations for the next four to six months until the overhaul of Runway 09/27 (soon to named be Runway 10/28) and Taxiway India are completed in time for the Thanksgiving holiday in November.
"We're going to encourage all non-commercial aircraft to shift their operations to non-critical parts of the day," he explained. "We have contingency plans in place. If aircraft break down on the runway, we will immediately tow them off right away.
"What I suggest people do, if they're booking their summer plans, is to allow extra time - not for check-in, but for connections. An hour will not be enough. Allow some extra time, especially if planes are leaving during peak times, which only applies at the weekend."
Mr D'Aguilar added that Runway 09/27 was "desperately in need of a new surface and extra taxiway". Once both those improvements were completed, he revealed that work will begin to install a new taxiway that better connects LPIA's main runway with Odyssey Aviation's fixed base of operations (FBO) for private planes and their clients.
This will make private aircraft movements "far more efficient", Mr D'Aguilar added, with planes spending less time on the main runway. "They currently have to get off the runway, taxi down the runway and cross the runway again," he explained.
"It's fairly inefficient to get to and from Odyssey. They will assist us with that infrastructure upgrade. That will allow for greater use of the main runway as opposed to spending so much time on the runway. Less time on the runway allows for greater use of the runway."
Not everyone is convinced. Captain Randy Butler, Sky Bahamas president and chief executive, told Tribune Business it was "crazy for them to go for the busiest time of year" and that there was likely to be a "huge impact" for the tourism industry - especially given the delays that are occurring now.
"Unless I missed something, it doesn't appear to be a well thought-out plan," he said. "You say something like this is happening on June 17, and you have as much traffic into that airport and challenges you are having now.
"A lot of businesses are going to be challenged. Your international airlines are going to cut back or prepare to inconvenience their passengers. Using both runways on a normal weekend, you can't get a timely departure....
"What's happening now is crazy. For them to go for the busiest time of this year, and say they are going to close Runway 09/27 is going to have a huge impact. You can hear the minister bragging about air arrivals are up, and most of your visitors coming in are coming in by air. You've just opened a new property like Baha Mar and I'm sure it's going to have an effect on them."
Captain Butler told Tribune Business that the first time he had heard about the Runway 09/27 closure plan was Friday, although Tribune Business understands that NAD has been talking to airport users about its intentions for at least a year and a meeting with stakeholders was held on April 11. Another is scheduled for today.
Vernice Walkine, NAD's president and chief executive, said in a statement that runway rehabilitation is scheduled maintenance that must be done to ensure LPIA continues as a safe and efficient airport and meets all international safety standards.
"We understand the importance of the upgrades and are now in a position to invest the necessary capital to undertake the project at this time," she explained. "There was no perfect time to do these necessary works, so we will have to manage the project with the goal of minimising disruption to ongoing operations.
"We are working with key airport partners on contingency plans to manage the flow of air traffic and to ensure the usability of the airport's sole runway during the rehabilitation process."
The project will begin during one of LPIA's many peak travel periods but, based on the projected timeline, NAD anticipates that the runway rehabilitation will be in full gear during the slower period of September and October. The airport operator is aiming to complete the works before Thanksgiving.
Ms Walkine said: "We would like the public to note that it is not uncommon for airports of our size and in this region to operate using a single runway. Barbados, Trinidad, St Lucia and St Maarten all operate using one runway.
"During this period, we are asking the travelling public to exercise patience when arriving or departing from LPIA, as there will likely be delays resulting from the runway rehabilitation project."
]