Wednesday, March 13, 2019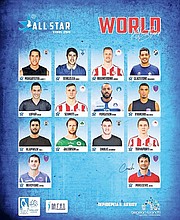 By BRENT STUBBS
Senior Sports Reporter
bstubbs@tribunemedia.net
BYRON Ferguson has secured his berth in the Greece All-Star Classic this weekend.
Ferguson, a member of Hercules, has been selected to participate on the World All-Star team that will play against the All-Star team made up of native players from Greece.
The game will be played on Saturday in Ermoupolis, Syros.
The players were selected as starters by the coaches and the executives before the public casted their votes for their favourite players.
Ferguson, the only Bahamian playing in the pro league in Greece and the only member of his team selected to participate in the game, said he's honoured to be included among the best players.
"I had the most votes for my position (as a middle blocker) after the coaches voted, so I will be starting in the game on Saturday," Ferguson said.
"Once the voting was done, my coach told me I was on the team and when I leave.
"I just found out today that I will leave on Friday morning and arrive on Friday afternoon. The game will be played on Saturday at 9:30pm (in Greece)."
It will be Ferguson's first appearance in the Greek All-Star game and the 29-year-old 6-foot, 6-inch, 11-year pro player indicated that he will make the most of it.
"At first I really didn't care, but I am happy, more so that the coaches and my peers have acknowledged me for what I bring to the table," he stressed.
"So I just want to go out there and represent to the best of my ability."
With the matchup being one that pits the World against Greece, Ferguson said he's hoping that their team, coached by Serbian Ratko Pavivic of AOFinica Syros, will come out on top.
"I want to win this game, but my expectations is to go out and have some fun," Ferguson stated. "I will start the game and we will see if they keep the same guys in or how they will play us as the game progresses."
Since the voting took place, Ferguson said he got a call of whatsapp messages from persons who indicated that they were voting for him to make the team.
"I am very appreciative of everyone who voted," he said. "Thank everyone for supporting me for another season and I plan to represent them well in the All-Star game."
Once the game is done, Ferguson and his Iraklis team will play one more game on Monday, March 25 before they get ready for the A1 playoffs. That game will be played against Foinikas Syrou.
Iraklis is currently in seventh place with a 5-11 win-loss record. They are also in the final four in the Cup, which will be played March 19-20.