Wednesday, March 13, 2019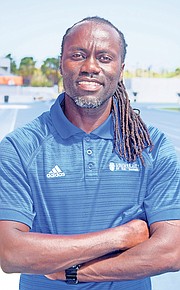 By BRENT STUBBS
Senior Sports Reporter
bstubbs@tribunemedia.net
NOT a week after he was hired as the first full-time head coach at the University of the Bahamas, Ednal Rolle was busy recruiting for the Mingoes' track and field programme at the Bahamas Association of Independent Secondary Schools Track and Field Championships.
"I don't think it has really set in yet that I am the first full-time coach to be hired at the university. It's history in the making and like I tell people, hard work pays off," he said.
"No matter what your occupation is, you have to put your best foot forward. I'm one of those who was taught from a young age that hard work doesn't kill anybody and anything you do, if you're not going to do it to the best of your ability, my mother and grandmother always told me not to do it at all."
Over the past nine years, the former 400 metre hurdles specialist was toiling as a track and field coach, starting at the LN Coakley High School in Exuma for three years before he was transferred to the CR Walker Secondary High in 2015 where he's been able to hone his skills.
"I remember making my first junior national team in 1984 and here it is, a few years later, I never would have dreamt that I would have been given this opportunity to coach young adults at the collegiate level here in the Bahamas," Rolle said.
"It's a dream come true," he added.
With the novelty of the job still wearing off, Rolle said he is eager to get to work and that was why he was in the recruiting mood at the BAISS meet, looking for potential athletes he can keep here at home.
"Like any other college, you want the best, so I am here. I want the best and I'm hoping that I can retain the best here at home and let them know that just like the other colleges overseas, we will get to travel and compete abroad," he stated.
"We will go to the conference meets that the other colleges go to. We had athletes who would have made the CARIFTA team on our team and we also had athletes who made the World Championship team here at the university."
Rolle said he believes in the myth that "home drum beats first" so he's encouraging as many athletes to take advantage at the opportunity to compete for the University of the Bahamas.
While the Mingoes already have a vibrant sprint programme that was left in place by outgoing coach Rupert Gardiner, whom Rolle worked with as an assistant, there is room for a strong distance programme.
"In addition to track and field, I am also in charge of our cross country programme and so I am looking for some distance runners to help in that area," Rolle said.
"I have a good strong selection of boys as far as the sprint and quarter-milers are concerned, but I want to build a base with the distance runners so that when we go to the NAIA meets, we could be a force to reckon with a well-=balanced team.
"It's good to have sprinters, but we need the throwers and jumpers and the distance runners. We also need the hurdlers to help us to develop a well-rounded team.
Having spent the past four years as the head coach at CR Walker where the Knights have been able to dominate as the Government Secondary Schools Sports Association's senior high champions, Rolle said he left with mixed emotions.
"I made CR Walker my home. I appreciated the opportunity that was given to me as a teacher and a coach to help steer the track team on to four straight GSSSA championships as well as winning divisions when we go to the nationals," he reflected.
"It's sad to leave the kids that I have groomed and trained and developed behind, but I have a life too and so I have to do this for my family and myself. They will be alright. I'm sure that they will get somebody to continue the legacy."
At UB, Rolle is assisted by James Rolle as the jumps coach, Sidney Cartwright, assisting the decathletes and Bradley Cooper, assisting the throwers. In time, Rolle said he hopes to hire an assistant female coach.
Right now, Rolle and his coaching staff are preparing the Mingoes for their first outdoor meet next weekend when they travel to Tampa, Florida to compete in the Bulls Invitationals.
"We are just coming from competing at Purdue where we had some great performances, including another national record-breaking performance from Ken Mullings in the decathlon, we won the 400 and we won the 800m," he stated.
"So I have a good team now and I expect to continue with that trend going to this invitational and being a force to reckon with as the university compete against other colleges abroad."
There are presently 23 athletes, 19 of whom are eligible to compete academically. Not only do they have to be academically fit, but Rolle said there are standards that the athletes must attain in order to be selected to compete in the meets.
"If you make the A standard, you automatically go to the nationals, B standards are provisional and depending on the numbers they are going to take, you could very well qualify or you could get knocked out," he said.
"So it's all about qualifying, getting that A standard, otherwise they will have to do the B standard to ensure that they get the opportunity to go to these meets to compete."
Like their peers in the United States, Rolle said there are plans on the board for the University of the Bahamas to host at least one track and field meet here in the Bahamas.
"With colleges, they tend to plan ahead, so to get them to commit, we have to plan to do our first one in 2020/2021," he said. "But I do intend to put on a cross country meet this year.
"I want to invite the high schools from the Family Islands and the private and public schools in New Providence. I also intend to invite some of the colleges in the United States to come so we can all use it as a recruitment for our cross country and distance-running programme."
While he admits that he will miss coaching at the high school level, 40-year-old Rolle said he's eager to take on his new assignment coaching young adults at the collegiate level.