Wednesday, March 13, 2019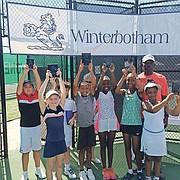 IT is one year since the last Winterbotham IC Junior Series for 10 and under and 12 and under boys and girls was held at The Albany Tennis Academy.
This time there was double good news as not only are numbers continuing to grow with almost 40 young participants this time but the organisers noted a real increase in performance from the juniors participating.
The series designed on a round robin basis where there is no elimination is aimed to grow tennis among these critical young age groups by giving all participants at least three and usually four matches over a single weekend.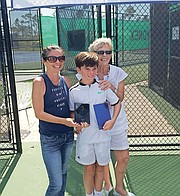 The juniors are encouraged to make friends, build camaraderie and work together to improve all their skills and enjoyment which is important at this young age.
Although it is fun to win there is strong emphasis on development. The juniors are given lunch each day so they stay on site, get to know each other and help build a tennis community.
On Saturday all players are in initial round robin groups then on Sunday morning they go into "playoff" groups with respective opposite numbers from the Saturday groups for their age and sex.
This way those who won their matches on Saturday meet others who also won their matches on Saturday giving greater competition on Sunday.
In the other groups those juniors who lost some matches on Saturday begin to win more matches as playing others close to their own level and so gain some confidence.
Most of the top final groups on Sunday resulted in some really close and great matches contested in good spirit with many going to a third tie break set to produce the winner - good competition and experience for them all.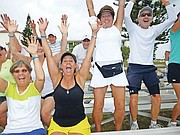 In the boys 12 and under finals playoff it was three very close matches between Jerald Carroll from Freeport with Jackson Mactaggart and Khai Rees from Nassau.
This time Jerald came through as the winner but only after some tie break sets with Jackson taking second place.
The girls 12 and under winner was Sierra Rogers who among others overcame Breann Ferguson as the runner-up.
In the boys 10 and under there was a great finals match between Jack Boals and Alec Hooper with both holding match points before Jack emerged as the winner.
In the girls 10 and under Millie Beukes once again was the winner but this time was pushed to the absolute limit, including a very close match with a much improved Sarai Clarke. She is the younger sister of top Bahamas junior Sydney Clarke who it was great to see there watching her sister.
It was also good to see another top junior Jacobi Bain there watching and helping while his father Bradley Bain was the referee. Both Sydney and Jacobi are on tennis scholarships at Albany Academy.
The Charlie Farrington Sportsmanship award this time went to Jack Boals which he was proud of as it is in memory of his grandfather and donated by his family in Charlie's memory.
The girls sportsmanship award went to young Tatyana Madu.
Organiser Neil Mactaggart expressed his delight at the way this event has grown and with both the juniors and parents who with only a few exceptions have shown a great attitude and willingness to work together to help grow the game for everyone.

Very importantly Mactaggart also said that the skills and performances of the juniors have shown considerable improvement from the start of the Winterbotham IC Junior Series just over a year ago.
IC President Kit Spencer, also part of the organising committee, expressed thanks to Albany Tennis Academy who provided the courts and to Winterbotham Trust for sponsoring the event series which is doing a great job to develop tennis in these young age groups.
This was the second event this year with the first event in January at The BLTA National Tennis Centre.
The Winterbotham IC Junior Series continues with The "International Event" at Baha Mar on the weekend of May 24-25 at which some top overseas juniors in these age groups are expected to come. That way it increases the experience for our players without the high cost of going to overseas tournaments.
The fourth event in the series will be in Freeport in November with a probable top player finals event in December.
• For more information on the International Tennis Clubs (IC) worldwide organisation, visit www.ictennis.net